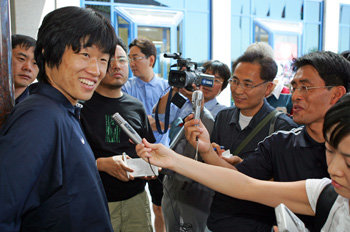 His face showed clear signs of fatigue. Nevertheless, his unique sense of confidence was alive.
"Taeguk Warrior" Park Ji-sung (24) played a key role in his team PSV Eindhoven's winning a "double" – winning both the Amstel Cup (Royal Dutch Football Association FA Cup) on May 30 and the league championship. On June 1, days before the 2006 German World Cup qualifying match Uzbekistan to be played on June 3, he showed up at Tashkent Intercontinental Hotel and said, "To tell you the truth, I am very tired. But thinking about all the fans who are supporting me, I will play magnificently."
"As a soccer player, this year I achieved all that I could wish for with my club. Now it is time to play for the national team. Although it is true that my stamina is low, I will address this by training for about two days with my teammates. My club's performance was good, so I can play feeling confident at the World Cup qualifying matches."
When asked if his position on the national team might differ from his current position, Park answered, "As a striker or offensive midfielder, I am confident that I can play both positions well."
Park also has great expectations of playing with Ahn Jung-hwan (29, Yokohama), who joins the national squad in six months, and newcomer "Soccer Prodigy" Park Joo-young (20, FC Seoul).
"Just by looking at Jung-hwan I know what he wants. Park Joo-young is talented enough to be selected to the national team, so if we play together a couple of times we will understand each other in no time at all. I expect good results."
Park Ji-sung added, "There is nothing set regarding resigning or moving to another club. But if I am assured that I can develop further on the team to which I will move, then I will do so."
The 23 players of the Korean National Soccer Team, including Lee Young-pyo and Park Ji-sung, had its first training session on the afternoon of the same day at the Tashkent Police Stadium.
On the other hand, Park was chosen by Asian soccer site "Football Asia" as one of the most outstanding Asian players playing in the European leagues.
Football Asia reported, "The 24-year-old, who began his PSV adventure at the tail end of 2002, bagged a Dutch league and cup double … [with] a plethora of goals and consistently brilliant performances."
Jong-KooYang yjongk@donga.com