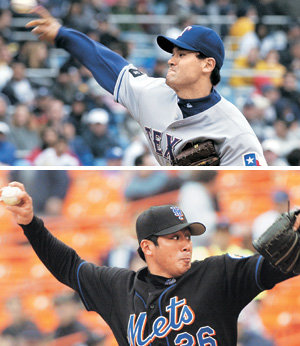 Two Korean pitchers sent home victory news this Sunday morning in New York.
On April 24, both Park Chan-ho (32, Texas Rangers) at Yankee Stadium and Seo Jae-eung (28, New York Mets) at Shea Stadium recorded wins. Both Korean pitchers also beat Japanese players--Park beat New York Yankee clean-up batter Matsui and Seo won against Washington's starting pitcher Ohka Tomokazu. Koo Dae-sung (36), who relieved Seo, also became the first Korean pitcher to relieve a fellow Korean pitcher in the Major Leagues.
Park Chan-ho, 95mph (153kmph) Fastball, Six and 2/3 Innings, 122 Balls Pitched-
Three signs that the "Korean Express" has revived showed up. Park gave up five base on balls facing 28 batters--three to Derek Jeter and two to Jason Giambi--and the result of nine full count showdowns were three hits and six strikeouts.
It is the third time that Park has allowed only one run while pitching over seven innings out of the 52 games he has pitched for the Rangers since signing with them in 2002. The first two times came last year when he pitched seven scoreless innings twice against the Seattle Mariners at Safeco Field. Park also recorded his second-highest pitch count total ever since a 128-pitch outing against Seattle on September 19, 2002.
It is also encouraging that Park, who was said to have become a control-pitcher relying on three balls--curveball, slow slider, and change-up--is recovering his reputation as a hard-throwing pitcher by throwing four-seam fastballs that go over 150kmph.
Park held Matsui hitless in three at-bats, and was relieved with two outs in the seventh inning after he gave up a base on balls. Texas won the game 10-2.
Seo Jae-woong did not waste his lucky starting opportunity that became available when Japanese pitcher Kazuhisa Ishii was put on the 15-day disabled list.
Seo's well-controlled pitching was just marvelous to watch. His ball control was almost perfect. He three 79 pitches, 55 of them being strikes, struck out four and did not allow a base on balls. The secret to his success was his cut-fastballs and changeups, which he polished in the minor leagues instead of his slider.
In the fifth inning leading 6-0 with runners at third and second and no outs, Seo stepped up to the plate, hit a two-RBI single, and scored on hit later that inning. Washington's counterpart, Ohka allowed six hits and four runs during three innings of work.
Koo relieved Seo in the seventh inning with 10-1 lead, but gave up three hits, two sacrifice flies and three runs during a single inning, ending his six-game scoreless streak. The final score was a 10-5 Mets victory.
Choi Hee-seop (26, LA Dodgers) brought up his hitting average to .220 by going one for three with one base on balls and two runs in a road-game against Colorado. However, the Dodgers lost the game, 6-8. Kim Byung-hyun (26, Colorado Rockies) did not play on Sunday.
Hwan Soo Zang zangpabo@donga.com