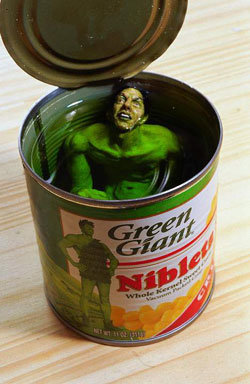 The Power of Imagination-
Artists who lay before us the world of "thinking art" have moved beyond painting and expanded their artistic fields into installation, photography, and images. One of the most prominent of such artists is Kim Baum, who throws fundamental questions about beings and objects by presenting familiar objects of everyday life in an unfamiliar way. His works include a pregnant hammer, a tree that becomes human in its dream and sees a photo of itself as a tree, and a painting of an enlarged key that seems like a landscape painting.
Other artists are: Kim So-ra and Kim Hong-suk, who turn issues of humanity and social science into issues of art by building a virtual bank, shopping center, and library within the gallery; Lee Dong-wook, who questions the existence of modern man by putting thumb-sized dolls into little tin cans; and Chun Joon-ho, who asks what the U.S. and power mean by presenting animation figures, made by synthesizing the back pages of dollar bills, engaging in a conversation.
A Photo is More than Just a Photo-
Among the many fields of art that young artists are expanding into, photography attracts the greatest attention. These artists are familiar with the digital culture and the culture of images and have succeeded in incorporating photography into an art genre. They also show various artistically experimented pieces of work in terms of motif or content. Lee Yoon-jin enlarges a particular part of a room in her photos and distances the everyday life from you; Kwon Oh-sang breaks down the barriers between photography, installation, and sculpture with his sculpture of photos; Oh Hyung-keun peers into the identity of modern man by specifying his subjects, which include middle-aged women and young girls; and Kim Ah-tah presents what is called the "Museum Project," and takes pictures of people in a see-through acryl box with temples, natural scenery, or a city's downtown at the back.
Restoration of Painting-
On the other hand, there is a large group of young artists who believe that painting, the "analogue" way of art, is the primary art form, no matter how digitalized this world gets. Their paintings are not simply copies of objects – they carry the painters' unique views toward reality.
Many artists fall into this category: Sunny Kim reveals the identity of modern man with girls in school uniform as the motif; Chung Soo-jin puts forth a new painting style powered with imagination and attractive colors of oil painting; Kim Ji-won paints large paintings of sundry objects like bathroom cups or broken pieces of dishes; Hong Kyung-taek fills the canvas with books, libraries, pencils, pens, and other subjects and paints them with very fancy colors; Kong Sung-hoon portrays a layer of metaphor that is hidden behind realistic descriptions; Ko Nak-beom paints large faces of those close to him; Park Hyung-jin sticks to the basics of painting but goes on to express pure and beautiful emotions in vivid and lively colors; Lim Man-hyuk draws attention with his warm, fancy colors and unique composition; Kim Hye-ryun shows rich color contrasts and powerful strokes; and Park Se-jin presents landscape paintings that seem like layers of extremely detailed descriptions that are only visible if you look closely as if sorting out hidden pictures.
Mun-Myung Huh angelhuh@donga.com