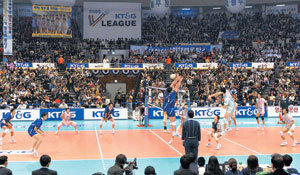 It was a thrilling come-from-behind victory.
The opening game of the first year of the pro volleyball KT&G V-League featured the Hyundai Capital Skywalkers versus the Samsung Fire Bluefangs on February 20 at Seoul Olympic Gymnasium Two.
The crowd that filled the 6,800 seats in the gymnasium got wild when Hyundai Capital, who lost the first two sets, dramatically turned the tables on the match by winning the next three consecutive sets.
Thus, Hyundai Capital staged an extraordinary victory, beating the top-ranked Samsung Fire for the first time in 11 months since the second match in last March's V-Tour 2004 Championship Game.
The opening game was a match between two "eternal rivals" in men's volleyball. With an advantage in height and the active play of Hu In-jung and Song In-suk, the Hyundai Capital won a game that was almost lost.
Faced with Lee Hyung-doo and Chang Byung-chul's left-right attacks and Kim Sang-woo and Shin Sun-ho's swift attacks, the Hyundai Capital were not a match for the Samsung Fire at first, losing the first two sets 21-25. However Hyundai Capital came back to life in the third set thanks to Hu In-jung and Shin Gyung-soo's blocking and strong spikes. Hu In-jung and Shin Gyung-soo scored 14 points together in the third set, taking the set 25-19.
Having reversed the momentum, Hyundai Capital, supported by the plays of Hu In-jung, Chang Young-gi and Shin Gyung-soo, took the fourth set 25-21, setting the table for a come-from-behind victory. The team ended the fifth set on top by a score of 15-11, taking down the eight-time winter league champion Samsung Fire.
In the V-League, the men's teams will hold 20 matches each and the women's teams will hold 16 matches each until the end of April. The playoffs will be held between the second and third ranked teams from April 28 to May 1, and the much-awaited champion (the best-of-five series winner) will be determined in the championship series that will be held from May 4 to 10.
Jong-Koo Yang yjongk@donga.com