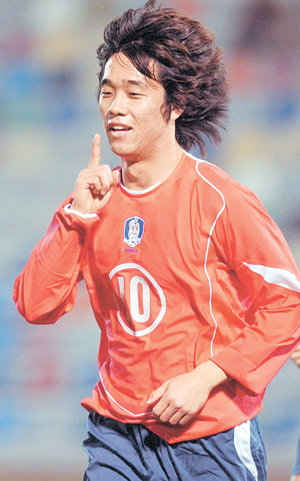 Park Chu-young (Korea Univ.), a rising soccer star of Asia, proved himself again why he is referred to as such.
Korea's Youth National Team, comprised of players under the age of 20, beat the Chinese team 3-2 at the opening game of Division B in the 2005 Qatar U21 tournament held in Doha, Qatar on Sunday, thanks to Park's stunning performance. Park scored two goals.
This is the second win in a row for Korea over China. Korea had won the last match up against China 2-0, in the final round of Asian Football Confederation (AFC) U-19 Asian Youth Championship in October last year. Korea's all-time record against China is 8 wins, 3 losses, and 1 draw.
Last year was the best season that Park ever had. Park, who scored two goals in the final game of the AFC Asian Youth Championship against China, received the topscorer prize and he was eventually named as the MVP of the Tournament. Later, he won AFC's "The young player of the year" prize as well.
Park's power did not get rusty this year. Originally, Park was very likely to join the senior national team and participate in the winter training session in LA under the senior team's head coach Jo Bonfrere. However, at the request of Park Sung-wha, the head coach for National Youth Team, who are facing the World Youth Championship in the Netherlands in June, this striker from Korea University remained on the youth team instead, and contributed to Sunday's win against China.
Park scored the first goal of the game. Kim Seung-yong broke through the Chinese defensive line on the left side, and passed the ball to Park. Park, who waited the ball in the left corner of the net, received the ball and connected it to a goal with his head with six minutes into the game.
China immediately tried to bounce back and carried out offensive attacks, but fell again 10 minutes into the game, when Park scored his second goal of the game. Park received the ball from a long pass by a defensive player, dribbled to the net from the center circle, and executed a powerful shot with his left foot.
China's Lu Bin scored a goal 25 minutes into the first half, and the first half ended with the score at 2-1. Shin Young-rok, Park's partner in the two-top offensive line, missed the first shot on one-on-one chance against the goalie, but rebounded the ball and scored a goal with his right foot in four minutes into the second half. China's Wan Cheng pushed in a ball that slipped away from the hands of Korean goalkeeper Jung Sung-ryong nine minutes later.
Korean National Youth Team will face Ukraine in the second match, on Jan. 18.
Sang-Ho Kim hyangsan@donga.com