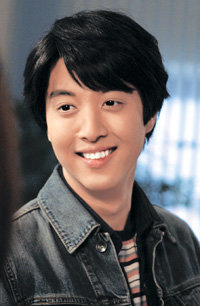 With "Romance in Paris" and the following SBS drama series "Yuriwha" airing every Wednesday and Thursday, Lee Dong-geon, 24, is now one of the most popular stars in Korea. He will make his actual big screen debut in a romantic comedy "My Boyfriend`s Blood Type B," which is directed by Choi Seok-won and scheduled to open on February 4 (cameo appearance in "Family" of 2002). Young-bin, the role he plays in the movie, is blood type B and is calculating enough to take back the roses he gave as a present and resell them. He shows eccentric moves to win the heart of "Hami," a timid girl of blood type A played by Han Ji-hye.
I met Lee Dong-geon at a café in Gangnam, southern part of Seoul. He said, "I am actually blood type A, who is hurt easily by the small mistake of the one I love." Unexpectedly, he was straightforward.
-Although you are known to have suffered a lot after making your debut as a singer in 1998, people tend to think that you succeeded overnight probably because of your "affluent" looks.
"A long period as a no-name entertainer and sudden success would have been easier to me. Frequent ups and downs wore me out. My popularity dropped suddenly after some spotlight was given to me when I debuted as a singer, and I treaded downhill after some attention with my appearance in a sitcom 'Three Friends,' which was when I was about to quit my career as a singer. This is the third time going uphill in my career. I just feel that there is nothing to fear this time."
-You are right. Frequent ups and downs are annoying. It is as if you are stripped of something that you were given before.
Lee Dong-geon is strained from the "killer" schedule, which allows him no more than one to two hours of sleep, busily working with the near-complete movie and the drama "Yuriwha" shootings at the same time. He said, "I am concerned that my eyes may seem blank because of weight loss, dark circles (the dark area underneath the eyes), and larger pupils."
-Wasn't your acting skill obscured by your good looks?
"I have heard this before. I recall somebody telling me, 'Your face overshadowed your music and acting.' However, these are all excuses. It is nonsense. My appearance should have been a multiple plus if I really was good at singing and acting. People tend to say those words when your talents are uncertain but your looks are good. I could have evoked something that Yang Dong-geon, Lee Na-young, and Kong Hyo-jin in 'Ruler of Your Own World (MBC drama of 2002)' could not have, had I acted as well as them. However, I fell far short of them."
-Among all the cast, you seem to be the most "beautiful" character both in "Romance in Paris" and "Yuriwha."
"I am flattered by that word 'beautiful' as opposed to 'pretty' or 'handsome.' It may be because of my role in the drama series. I was always the one to be hurt the most and the one to love the most at the same time."
-Perhaps because of your "pretty face," you seem to make good couples with easygoing and outgoing female roles.
"I am not good at socializing, so it gets difficult when the one to play my opposite is also timid. I have big insecurity about my looks. I was told so many times since childhood that I look like a girl. I have changed a little bit these days, though. I grew a beard, use my fist instead of palm when cupping my chin in my hands, and so on to look like a 'man,' paying attention to the smallest poses."
Lee Dong-geon cited Choi Min-soo, Lee Jeong-jin, and Cho Han-seon as the best looking actors, adding, "It's the masculine looks that counts."
―What would you say about your female partners in the shows?
"I really can't say much about Miss Kim Ha-neul (the Glass Painting). Hmm… She seems very professional and profound…. Miss Kim Jeung-eun (SBS "Lovers in Paris") is comfortable to be around. She is very considerate. Miss Han Ji-hye (KBS2 Nangrang (Ebullient) 18) makes people happy just being with her. She would offer a bright smile no matter how tired she is, and that single smile embraces everyone else."
―A little more charisma seems to be in order in your acting or appearance….
"Actors are like sword fighters with different weapons. People consider a sword that will slash the other in half with one sharp and fierce stroke, but it's all an idée fixe. I just have a different form of a sword, very minute but delicate. I do not have a set of piercing eyes to overwhelm the opponent. My eyes are droopy, and they are gentle. But my eyes have the sorrow and pain that can make the audience silently wet their eyes."
―You ultimately chose acting over singing.
"With the exception of the recent couple years when I gained much attention, I was neither a singer nor an actor. Some generously gave me the title of 'all-round entertainer,' but trying out anything and everything does not make someone an 'all-round player.' I tried everything there was, but what was left was 'Lee Dong-geon' with now an elaborate title to follow. I clenched my jaws and decided to 'become the actor.' Started out with the idea of 'being the number 1.' When I was singing, I did everything to avoid having to act because I feared it will hurt my career in recording, but, in the end, it was the sitcom 'Three Friends' that let people know of my name. Acting was something that came back to me even more persistently as I refused time and time again. I dreamt of singing, but acting might just be my destiny."
―You are enjoying one of the greatest popularity. What troubles you?
"I lost so much over the last two years. All I have left are my characters in the feature productions. All this guy named 'Lee Dong-geon' did until 25 since he was 23 was filming in studios. There is something missing in a corner of my heart that is suffocating and driving me crazy. Having a shot of soju in covered wagons and giving a bouquet of roses to a lover. I miss those little blessings. I would like to have them back."
―Are you involved in any relationship?
"(with a bit of hesitance) No. When I do find someone, I don't want to be envisaged as someone who's done a bad thing, like other celebrities. I will face the world with dignity and love with all my heart. I will enjoy my life. I want to confine my public activities to one production of a movie, and I want to move away from my acting career for a bit. I want to get back my lost '25-year-old' self."
Seung-Jae Lee sjda@donga.com