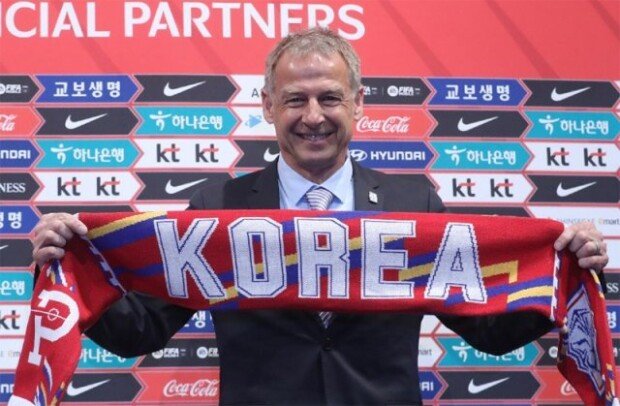 Jurgen Klinsmann, the newly appointed head coach of the South Korean men's national football team, unveiled his coaching staff, or "the Klinsmann Squad," at a press conference in Paju National Football Center on Thursday. Cha Du-ri, the youth reinforcement coach of FC Seoul who garnered much attention in the lead-up to the announcement, has been appointed as a technical advisor.
The coaching staff includes Andreas Herzog, senior coach from Austria; Paolo Stringara, coach from Italy; Andreas Koppke, goalkeeper coach from Germany; and Werner Leuthardt, physical coach from German, with Michael Kim, a coach who previously worked with Paul Bento, completing the team. Klinsmann praised his staff, saying, "They are highly experienced and have worked in leagues such as the English Premier League and the German Bundesliga. He emphasized that they will would work together to support each other.
Herzog, in particular, worked as senior coach for Klinsmann as coach of the United States men's national football team from 2011 to 2016. Stringara worked with Klinsmann during that time. Koppke served as the goalkeeper coach for the German national team from 2004 to 2021. Leuthardt has worked as a physical coach for prestigious football clubs, including Bayern Munich, Schalke, and Fulham. While Klinsmann will be based in South Korea, he noted that the other coaches would be responsible for scouting players in European leagues and attending games to identify potential recruits in different regions such as Naples or Mallorca.
The new head coach of the South Korean football team also stressed the importance of technical advisor Cha Du-ri. "Advisor Cha will help provide insight into the South Korean football scene," he said. "I plan to attend K-League matches with Cha and meet with players and coaches."
As a former striker, Klinsmann promised to bring an aggressive style of play to the South Korean squad, saying he prefers to win 4-3 rather than 1-0. Aiming to win the AFC Asian Cup, Klinsmann said he hopes to achieve many long-term goals, surpassing South Korea's previous World Cup quarterfinal appearance in 2002.
Bae-Jung Kim wanted@donga.com