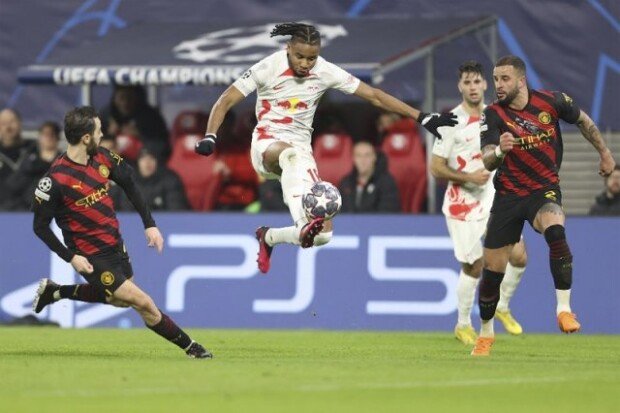 Manchester City couldn't win either. All four English Premier League (EPL) teams stopped short of pulling a draw in the first leg of the round of 16 of the European Football Federation (UEFA) Champions League.
Man City drew 1-1 in the 2022-2023 UEFA Champions League round of 16 first-leg away game against Leipzig (Germany) on Thursday. Manchester City took the lead with Riyad Mahrez's goal in the 27th minute. However, in the 25th minute of the second half, Joško Gvardiol scored a header from a corner kick to tie the game.
Defender Gvardiol represented Croatia at last year's World Cup in Qatar. He played full-time in all seven matches before the third and fourth-place decisions, including three in the group stage, helping Croatia to a third-place finish. According to Transfer Markt, a European footballer transfer information media outlet, Gvardiol's estimated transfer fee jumped from 60 million euros (approximately 82.6 billion won) in September last year to 75 million euros (approximately 103.2 billion won) in January this year based on his World Cup performance. EPL clubs such as Chelsea and Liverpool are seeking to sign him. Manchester City's leading scorer with 26 goals in the EPL, Erling Haaland, scored only one goal on the day.
With Manchester City's draw, the four EPL teams that advanced to the Champions League round of 16 recorded one draw and three losses in the first leg. The day before, Liverpool (England) lost 2-5 to Real Madrid (Spain). Son Heung-min's team Tottenham (England) lost 0-1 to AC Milan (Italy) on Feb. 15. Chelsea (England) also lost 0-1 to Dortmund (Germany) on Feb. 16. The four EPL teams that advanced to the round of 16 last season recorded three wins and one draw in the first leg. In January, the EPL spent 815 million pounds (approximately 1.27 trillion won), the most in the European professional football league, in the winter transfer market.
Dong-Wook Kim creating@donga.com