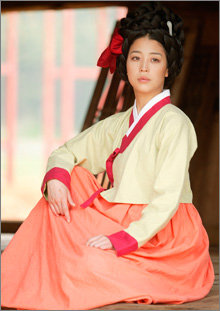 These three soap dramas have shown mismatched roles with actors: Han Go-eun (myo-ok) in SBS's "Jang Gilsan," Kim Min-joon (Jaebok) in MBC's "the Island," and Cha In-pyo in MBC's "The Age of Heroes."
The three have taken the main role in each drama. However, viewers have raised questions about their compatibilities with their roles. Professor Choi Hyeong-in at Hanyang University, who teaches acting for theater and movies, honestly expressed his feelings that, "It has been not pleasant watching their acting on TV." Some netizen viewers have left their commentary on websites, saying, "Their clumsy acting has cut the flow of the drama." People in the field of broadcasting call this phenomenon a "wrong match" between actors and roles.
The Reckless Drive to Change One's Existing Image-
Han Go-eun acts as the first love of Jang Gilsan as well as a prostitute, who was from a wandering troupe of singers and dancers. But her modern city-girl image does not fit in with a historical drama, and viewers criticize that her introspective acting lags behind what her role, "Myo-ok," demands of her.
One of the TV producers from SBS said, "Han Go-eun's image and her sense of fashion style match well with the dramas of the present day, but her voice articulation together with her English pronunciation has been a big hurdle for her acting in historical dramas." Han was once pointed out by netizens for appearing with long fingernails uncut in this historical drama.
The character Cheon Tae-san that Cha In-pyo was given in "The Age of Heroes" is a businessman who has experienced ups and downs in life, and also has a delicate love story. However, Cha In-pyo has been criticized for not fulfilling the complicated character. One college professor of acting anonymously said, "Cha In-pyo is perfect for strong characters, but his acting skill for complicated characters is weak due to his problem with voice articulation."
Kim Min-joon, who acted a heavy role well in "Damo" on MBC, tried to change his image into a third-rate gangster in "The Island," but the response from viewers has been that his acting is not ready for a whole opposite character. One producer from the Korea Broadcasting System (KBS) said, "It seems Kim has tried a too-abrupt image change. He should take several more roles that fit well with him before attempting a different character for image transformation."
Popularity First, Acting Skills Second-
What causes a "wrong match" in the casting of TV dramas? The answer is that there are not enough actors and actresses who have both good acting skills and popularity. In this reality, many drama producers rely on popularity first, which will at least guarantee a certain program rating.
Park Jong, producing director at MBC, explains, "It is similar to the principle that an offensive Cinderella gets forgiveness because of her beauty. Similarly, we cast popular good looking actors and actresses even though they lack good acting skills."
"Casting has been extremely focused on a few figures. Among TV dramas that plan to begin shooting late this year or early next year, there is no drama that has not listed actor Won Bin, who announced his plan to do his military service around that time, as the potential male main character," said Park Chang-sik, producing director at Kim Jong-hak Productions.
Now, TV drama producers honestly reveal their difficulties in casting, as main characters are increasingly demanding good acting skills than before. Kim Jong-sik, head of the drama team 2 at KBS, said, "Recently, the main characters have become more complicated, and there are only a few popular actors and actresses who can manage those characters and lead those dramas."
Sun-Woo Kim sublime@donga.com