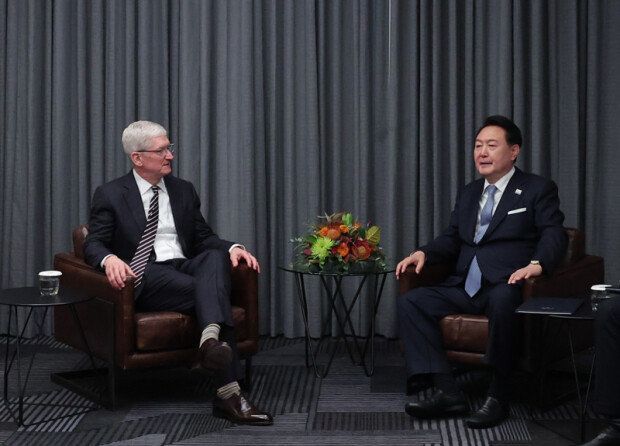 During the ongoing APEC summit, South Korean President Yoon Suk Yeol engaged in discussions with key figures in the business world, including GM's management leadership, former Visa CEO Alfred F. Kelly, and Qualcomm CEO Christiano Amon. GM notably commenced Korea's evolving business environment, while Visa pledged to contribute to the digitization of financial infrastructures for small business owners.
Apple's CEO, Tim Cook, opted out of the CEO Summit, a sideline event of APEC, choosing instead to arrange a separate meeting with President Yoon. In a surprising revelation, Mr. Cook shared a personal connection to Korea, citing that his father was a Korean War veteran. President Yoon expressed gratitude for Mr. Cook's father's service and sought expanded cooperation between Apple and Korean companies.
Addressing the future generation of Korean diasporas in the U.S., President Yoon disclosed ongoing efforts to lift restrictions barring foreign researchers from participating in Korean government-led R&D projects. He emphasized the Korean government's commitment to supporting individuals with Korean backgrounds worldwide, nurturing them into globally renowned researchers, irrespective of nationality. This statement explained the recent reduction in the R&D budget, with a promise for qualitative improvements and a shift in direction in R&D assistance.
Analysts interpret President Yoon's focus on the KORUS alliance and trilateral cooperation with the U.S. and Japan aligned with the recent Korea-China summit. Noting that this marks his fourth visit to the U.S. in 2023 alone, President Yoon outlined the KORUS alliance's five pillars, namely, security alliance, industry alliance, cutting-edge science and technology alliance, culture alliance, and information alliance, which, he emphasized, rest on the foundation of a shared value alliance.
Kwan-Seok Jang jks@donga.com