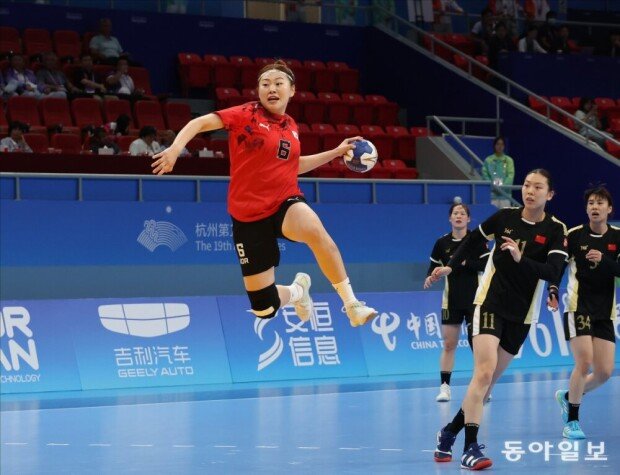 South Korea's female handball team advances to the Hangzhou Asian Games finals, eyeing a third consecutive gold medal.

The Korean women's handball team triumphed over China 30-23 in the Wednesday semifinals at Zhejiang Gongshang University Sports Center. The finals are scheduled at the same venue at 18:00 on Thursday. 

The Korean women's handball team has maintained a nearly 20-year unbeaten streak against China. Their last loss was in the 2004 Hiroshima Asian Championships, where they fell to the Chinese team by just one point, 25-26, in the semifinals. In recent match history, Team Korea boasts 36 wins, three ties, and three losses against China. 


Team Korea faced initial challenges against China on their home turf, with some 3,000 fervent local fans backing the home team. China's fast and energetic play, fueled by enthusiastic support, applied pressure in the early stages. Korea narrowly led the first half, 15-14. However, in the second half, Korea's experience and determination came to the forefront. Just two minutes into the latter half, the score was tied at 15-15. Yet subsequently, Korea netted 13 more goals while China managed only four points, widening the gap to as much as nine points. 

Since handball became an official sport in the 1990 Beijing Asian Games, South Korea has claimed gold in seven of eight Asian Games finals. The only exception was the 2010 Guangzhou Asian Games when they took home the bronze.
Bae-Jung Kim wanted@donga.com