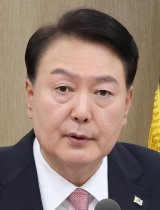 "If we remain convinced that the global market and the world expo are ours and throw ourselves to it, we will be able to achieve hosting the event," South Korean President Yoon Suk Yeol said on Monday, quoting a Korean saying, "Sincerity moves heaven." While calling for hosting the 2030 World Expo in Busan during his visit to New York to attend the U.N. General Assembly, the president encouraged the members of the State Council to make all-out efforts until the end.
"We should not be complacent to think that we can achieve what we want with mediocre efforts," President Yoon said during a Cabinet meeting presided over by the president in the presidential office in Yongsan-gu on Monday. "We should have conviction toward the goal and throw everything to achieve it."
"The leaders of other countries waited 30 minutes to one hour for bilateral talks with South Korea. They could have felt unpleasant but wished to meet a South Korean president," said the president during a closed meeting, adding that it shows a rise in South Korea's stature. "After meetings with the leaders of various countries, I felt like it would be important to help South Korean companies to enter the overseas market and conduct business," he said to State Council members.
Joo-Young Jeon aimhigh@donga.com