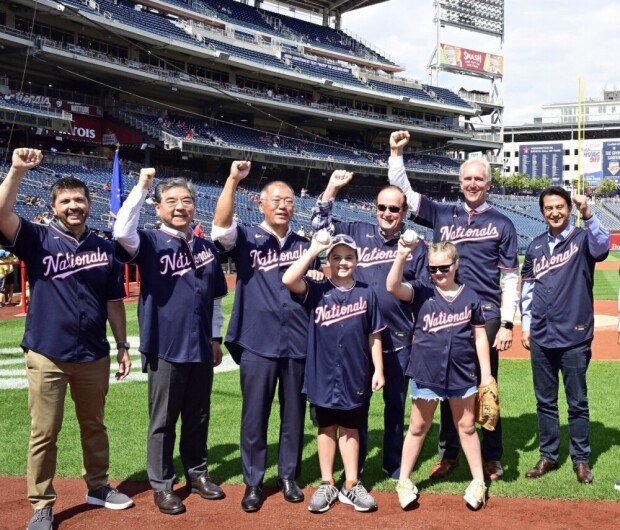 "I would like to build a world free of childhood cancer and to give hope to those children currently battling this illness."
On Friday, during his welcome speech at the Hyundai Hope On Wheels event in Washington, D.C.'s Ronald Reagan Building, Hyundai Motor Group Executive Chair Chung Eui-sun marked the 25th anniversary of the group's donation program, which aids patients with childhood cancers, promotes their well-being, and supports life after treatment.
Prominent attendees at the event included Hyundai Group executives like Jae-Hoon Jang, Jae-Won Shin, and José Muñoz, U.S. Congressional members Senator Tom Cotton and Representative Mike Kelly, and esteemed individuals such as Korean Ambassador Cho Hyun-dong. Notably, the event gained significance with the presence of child ambassadors who had conquered the cancer, along with hospital staff.
Established in 1998 to aid U.S. dealers and childhood cancer patients, the group supports hospitals and research institutions. Its goal is to eradicate childhood cancer, one of the leading causes of death among American children, through supporting research and treatment.
Hyundai's Hope On Wheels ranks among the top three childhood cancer foundations in the U.S. in terms of funding. This year's $25 million brings the group's total donations to a remarkable $225 million. It operates as a matching fund, earmarking a portion of each car sale for donation, resulting in an equivalent contribution from the group. Over 830 Hyundai dealers nationwide participate in this initiative. To date, Hope On Wheels has supported approximately 175 hospitals and research institutions involved in the treatment and development of childhood cancer therapies, funding around 1,300 projects.
Jae-Hyeng Kim monami@donga.com