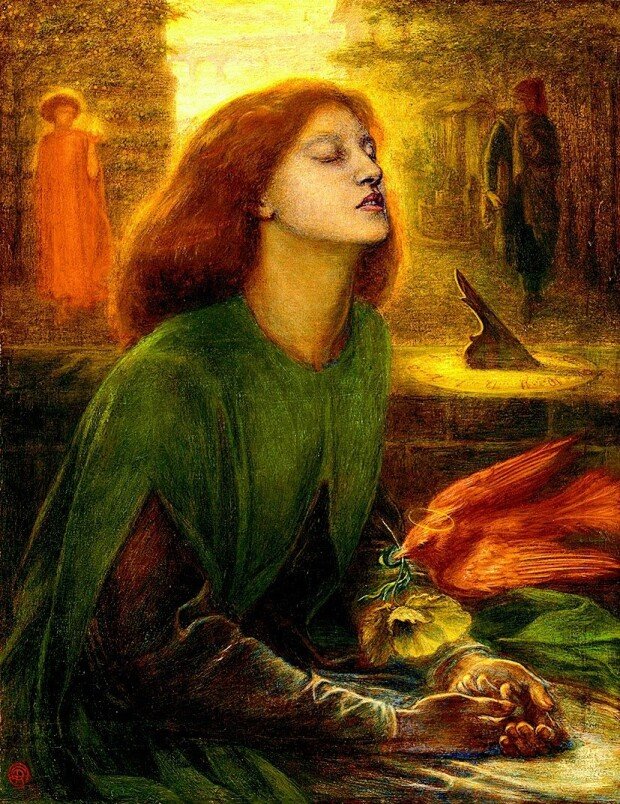 The noble and pure love between Dante Alighieri, the best Italian poet of the 13th century, and Beatrice Portinari is well-known. Dante immediately fell in love with her when he saw her at the age of nine. She was eight. He believed Beatrice was pure, like an angel, and got literary inspiration from her.
Dante Gabriel Rossetti, a British painter of the 19th century who admired the Italian poet, painted his wife Elizabeth Siddal by comparing her to Beatrice. In his painting, "Beata Beatrix," Siddal has her eyes closed as if she is in a trance. A red dove is bringing a poppy flower and is about to drop it into her palms against the background of the Italian poet and his lover meeting each other.
Siddal, who was a painter and a poet, was a model loved by the Pre-Raphaelite Brotherhood, including Rossetti. The Pre-Raphaelite Brotherhood is a group of young artists formed in London in 1848 who argued that artists should go back to the Middle Ages before Raphael and make paintings that are faithful to the depiction of nature and focus on ethical and holy topics. However, their lives weren't that ethical.
Rossetti married Siddal 10 years after the two started having a relationship, but he constantly cheated on her. Siddal passed away at the age of 33, two years after their marriage, after struggling with depression and drug addiction. Two years after her death, Rossetti painted "Beata Beatrix," which includes a red bird symbolizing a messenger of death, and a poppy symbolizing death. The painter must have equated his dead wife with Beatrice and wanted to make a painting that symbolizes their noble love.
Did Rossetti live a life like Dante's after his wife's death? No way. He had sought a new Beatrice his whole life. He even had an affair with the wife of his friend, William Morris, and the three of them lived in the same house together at some point. Such a pure love was perhaps only possible for the Middle Ages poet – it was simply an ideal and fantasy for a young painter in the 19th century. Such an ironic life couldn't have a great ending. Rossetti also struggled with drug addiction and mental instability and passed away lonely at the age of 54.