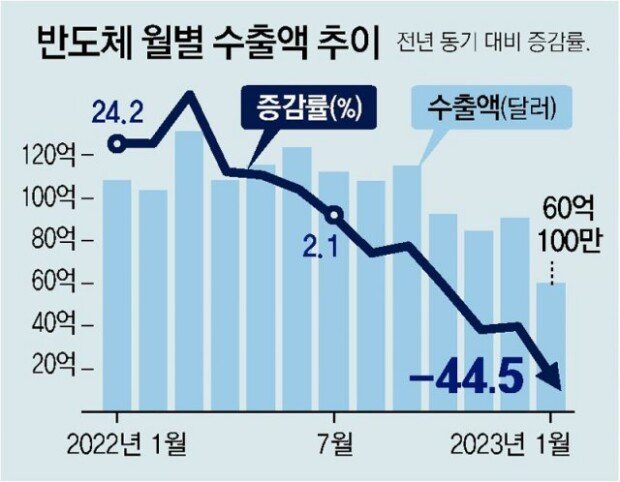 South Korea's semiconductor export, the main driver of the national economy, fell by over 40 percent in January compared to the same period last year, revealing the sign of 'semiconductor export shock.' This was the biggest drop since the global financial crisis in January 2009, when it fell by 46.9 percent. As a result, the country's monthly trade deficit hit a new high.
According to the Ministry of Trade, Industry, and Energy on Wednesday, South Korea's export recorded 46.27 billion dollars last year, which is 16.6 lower than a year ago. The country's import during the same period was 58.96 billion dollars, which is 2.6 percent lower than last year's. As a result, the country recorded 12.69 billion dollars in the trade deficit, the highest monthly figure. The previous record was 9.43 billion dollars in August last year, which is the first time the trade deficit exceeded 10 billion dollars.
Semiconductor export has been declining for six consecutive months compared to the previous year since August last year. The country's export in January experienced the biggest drop since May 2020, especially in semiconductor export. Semiconductor export dropped by 44.5 percent last month compared to a year ago due to a slowdown in the global economy and falling semiconductor prices. The government believes that an increase in energy imports in winter and issues with China's economic activities due to COVID-19 also worsened the country's trade balance.
Falling semiconductor prices are leading to the poor performance of the South Korean semiconductor industry. SK hynix announced on Wednesday that its consolidated sales were 7.6986 trillion won and its operating loss was 1.7012 trillion won in the fourth quarter of last year. This was the first time in 10 years that the company experienced a quarterly operating loss since the third quarter of 2012, with a loss of 24 billion won. However, the company's annual sales last year recorded 44.8481 trillion won, which is 3.8 percent higher than the previous year, even though its operating profits dropped by 43.6 percent to 7.0066 trillion won.
SK hynix's earning shock is the result of a sharp decrease in demand for memory for smartphones, PC, etc. since the second half of last year due to the global economic slowdown and a large price drop accordingly. The company plans to reduce its investment by half this year as announced in the earnings call in October last year. "While the recession will continue to worsen in the first half of this year, the market conditions are expected to improve in the second half," said a member of SK hynix.
kootg@donga.com · kalssam35@donga.com