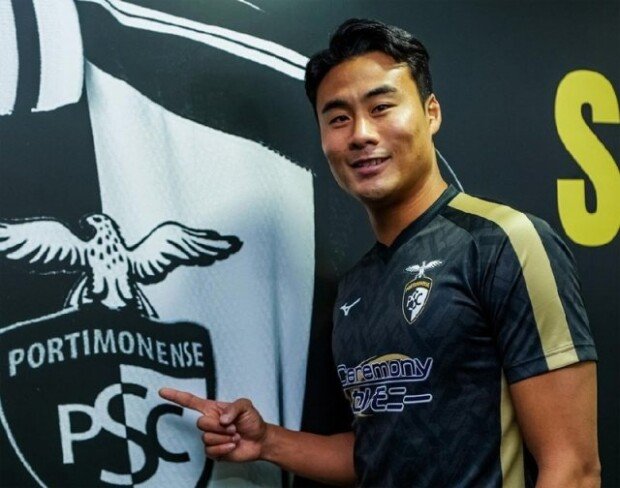 "I'm very grateful to Mr. Paulo Bento."
Park Ji-su, a defender of the South Korean men's national soccer team, expressed his gratitude towards former national team coach Paulo Bento at a press conference where he announced that he would be joining Portuguese Primeira Liga's Portimonense S.C. On Thursday, Portimonense revealed Park and four new players to join its squad on its website. It was reported that Park signed a one-and-a-half-year deal until June 2024.
The former national team coach acted as a go-between for Park's advancement to the Europa league. "Since Mr. Bento, a Portugal himself, played in the Portuguese League, I felt very familiar with the idea of joining the Portuguese club," Park said. "I heard Mr. Bento had a phone call with Portimonense manager Paulo Sergio." It was reported that Bento spoke of Park before Sergio recruited the South Korean defender.
Park made his A-match debut in November 2018 against Uzbekistan. That was when Bento oversaw the Korean men's national soccer team. Park played in 14 matches and left a strong impression on Bento. However, just one day before the announcement of the World Cup final list, on November 11, 2022, Park suffered an ankle ligament injury in a match against Iceland and was dropped out of the list.
Park joined Incheon United FC in K-League 1, South Korea's professional football league, in 2013. He then played in FC Uijeongbu in K-League 3 in 2014 and moved to Gyeongnam FC in K-League 2 in 2015, where he played for four years. After playing for Guangzhou FC in China for two years from 2019, Park was leased to Suwon FC in 2021, enlisted in the army, and completed his military service. Park became a free agent in December 2022 and received offers from teams in China and the Middle East. However, Park chose to take the challenge against the Europa league.
Portimonense is a team that Suwon FC's Lee Seung-woo played for six months in 2021. Midfielder Kim Yong-hak, a U20 player, has been playing for Portimonense as a winger since January 2022. Portimonense currently stands at 12th among 18 teams in the Primeira Liga, with 20 points from six wins, two draws, and nine losses. By recruiting Park, the Portuguese club seeks to tackle its weakness in the defensive line, which was revealed by its recent losses of nine goals in the latest five matches with one win and four losses. "I think teams in Primeira Liga are very quick in switching from defending to attacking. I will do my best to adjust to the team with the help of Kim Yong-hak," Park said.
Bae-Jung Kim wanted@donga.com