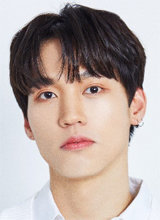 At the end of every episode, the tvN drama "Crash Course in Romance" plays a song titled "Misty Flower." The drama's original soundtrack starts with a bright intro and then takes on a unique tone.
Viewers love the song as much as the drama. Singer-songwriter Lee Joo-hyuk's clean voice is a perfect match for the lyrics that cheer up the characters in the drama as they comfort each other in their exhausting lives. "I liked the song as soon as I heard it for the first time. I thought it would go well with my voice," said Lee on Tuesday.
The trademark that describes Lee is "sweet voice," which is so clean and mystical that singer Yoo Hee-yeol once praised it as "a voice that has never breathed in a bit of fine dust." It also has a reverse charm. His normal voice is far from beautiful.
"I've always thought my voice was raspy since I was a kid," he says, "and I found my singing voice while practicing with a recorder since I was 20. I wanted to be an impactful singer from the first note of a song. But I was a shy boy who couldn't even sing loudly, so I'd mixed my breathing a lot with my voice while singing, which now became my signature. After four years of practicing, I finally thought my voice was worth listening to."
He created a band, "Gift," in 2016. He named his band, hoping his music could be a gift to his fans. He recruited Kim Hyung-woo and Jeong Hwi-gyeom, whom he met while busking and performing every day, as a bassist and a drummer. They soon made a name for themselves by sweeping various busking and indie band competitions and were selected for CJ Culture Foundation's indie musician support project "Tune Up" in 2020. They have been steadily increasing their presence.
"We often say to each other, 'let's always remember what it was like when we first started.' We try not to forget the days when we went to competitions and did busking. I think we had more fun playing music then. I don't think we need adjectives to explain 'Gift' anymore. Just having fun and enjoying ourselves is our top priority."
The group plans to try their hand at the rock genre that they loved in their early days. Gift will showcase its new look when it takes the stage at the concert 'Nodlesum Livehouse' at Nodlesum in Yongsan-gu, Seoul on March 4. "On the stage, the acoustic guitar will be replaced with an electronic one, and four of us will perform with guest guitarist Yoon Seok-hoon," said Lee. The group will also debut their unreleased new songs at the performance.
beborn@donga.com