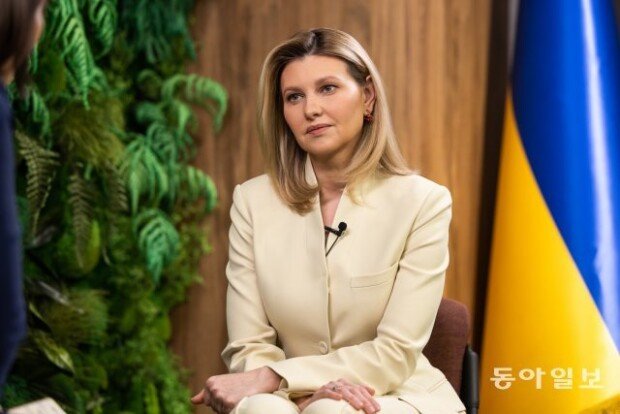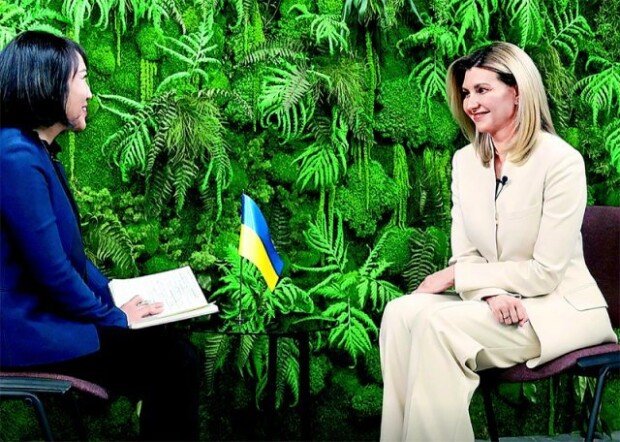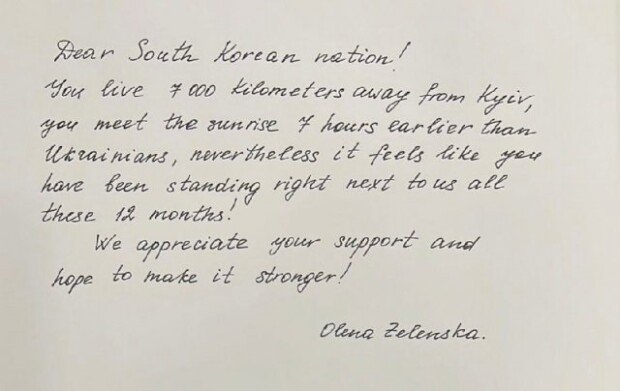 "I feel like I have gone through pretty much all the bad news that could be coming, but each time I encounter new horrors of war," Olena Zelenska, First Lady of Ukraine, said in an interview with The Dong-A Ilbo and Channel A, which took place at the temporary presidential office building in the capital city of Kyiv on Wednesday, just 10 days before one year since the Russian invasion of Ukraine began.
Olena Zelenska told stories of a father holding his dead son's hand for four hours at a bus stop in the city of Kharkiv, a son guarding the grave of his mother who was buried in the yard in a suburb city of Bucha, and a hearing-impaired woman who was belatedly rescued from the rubble of an apartment building in Dnipro because she could not shout out for help. "Every week, every day is a tragedy. We must remain vigilant," she said.
"The biggest fear is that the world may think that this war is only the war of Ukraine," the first lady said. She pleaded for the global community's support for the end of a prolonged war in Ukraine. "We will wait for a dialogue with South Korea and its military assistance to Ukraine." Olena Zelenska said. "South Korea recovered from the devastation of the Korean War, and Ukraine can learn a lot from Korea's experience of rapid economic development after the war," she said.
Despite signs of fatigue from various events at home and abroad to appeal to the public about the injustice of the Russian invasion of Ukraine, Olena Zelenska enthusiastically responded to an hour-long interview. "All I can do right now is to keep sending messages to as many people as possible about Ukraine, and I want to do my job with the utmost diligence," she said.
Olena Zelenska showed up for an interview with armed soldiers at the temporary presidential office in Kyiv. Wearing a beige suit, the first lady told a reporter, who was wearing a blue suit, that it is the color of the Ukrainian national flag. In an interview with a Korean interpreter, which she was new to, Zelenska said that Korean sounds gentle to her ears.
"Zelenska" is a female surname for her husband's surname of "Zelensky," with the gendered ending of "a." Olena Zelenska made last year's BBC 100 Women list for her role in eliciting support from countries around the world by telling the world the atrocities of the war. She and her husband, President Zelensky, have a 19-year-old daughter and a 10-year-old son.
- The war is getting longer. How are you coping with a prolonged war?
"What kind of war can be described as a 'short' war? Every week and every day, war is a tragedy. We are all very tired and exhausted, but we just want to live. We must save the future of our children. It is no time to complain about our exhaustion."
- You said you endure hard moments by doing what you enjoy. What are the things you do to carry on?
"I liked to read before the war broke out. But reading does not help get rid of confusion. It is the moments with my children that comfort me. When I hear my children say, 'It's going to be okay,' I am relieved. It is their cheerfulness and innocence that calm me down."
- What do you do to help President Zelensky when he is distressed?
"I try to make him laugh to cheer him up. It is funny that I make my husband, a former comedian, laugh. I also tell my husband what we would tell our loved ones, such as 'Cheer up,' 'We can do this.' The most important thing is that we are together in this."
- What are you most afraid of as the war drags on?
"I am most afraid that the world may think this war is only for Ukraine. This war is not only affecting Ukraine. If Ukraine loses, Russia will not stop. We are confident that we can win this war. I hope the international community helps us as much as we need."
- What kind of help does Ukraine specifically and desperately need?
"Some people have doubt whether it is right for the first lady to ask for military assistance. If there is a way to protect and save us, I should step up. Military assistance is certainly most needed. We also need to rebuild infrastructure. Collapsed buildings, schools, kindergartens, and hospitals must be rebuilt. Above all, people are the priority. The world can help us."
- You are raising children during the war. What do you value the most, and what do you say to your children?
"We need to be honest with our children. Indeed, we can no longer have a dream as pure as the one we used to have before the war broke out. However, everything will be back to normal. It is this certainty that we need to highlight to our children. 'Adults are going to protect you. So be safe, don't worry.'"
- There are also observations that this war will be longer.
"War is always long. Nobody knows how much longer we can last. It depends on the support of the allies. I know that many brave soldiers were dispatched from countries around the world back when the Korean War broke out. That was how the Korean War ended."
- What do you want to say to Russian President Vladimir Putin, who started the war?
"I don't want to run into him even for a moment. No one would want to personally encounter the person who tries to kill him. As a Ukrainian, this is the one thing I want to say to Putin. Get away from us."
- What efforts do you want South Korea to make for Ukraine?
"Please do not forget us and continue to support us. Korea is a big country, and we desperately need help. Ukraine will wait for a talk with South Korea for military assistance. Korea can also help us with education through the foundation I established a few months ago. Children study online because of safety issues and need laptops to access online classes."
- Would Korea's post-war reconstruction process be of help?
"South Korea has succeeded in post-war recovery. Korea achieved remarkable economic growth and recovered human resources as well. An experience like this has a profound meaning to Ukraine. If Korea offers cooperation, Ukraine will be more than happy to accept it."
Eun-A Cho achim@donga.com