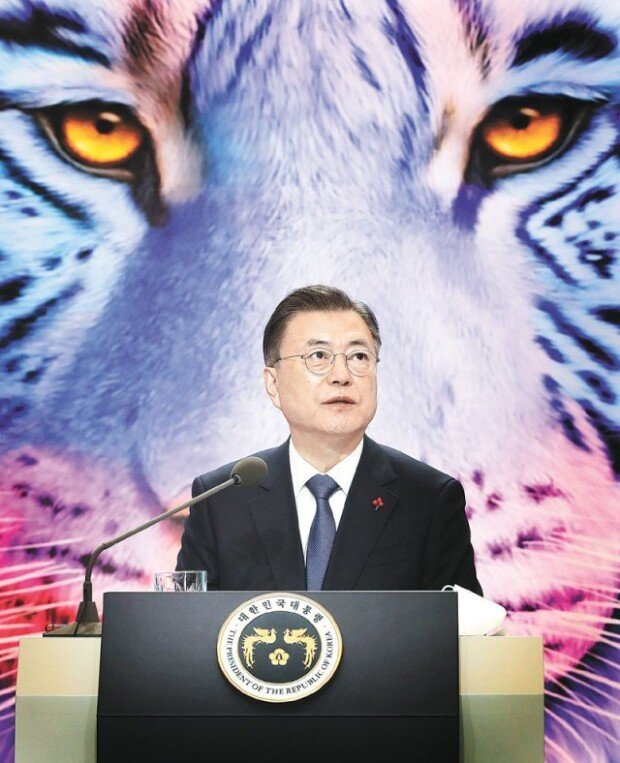 With 65 days left until the presidential election, President Moon Jae-in expressed hope that the upcoming election will be a race of unity that embodies the hope of the people, instead of hostility, hatred and division.
In his New Year's address at Cheong Wa Dae on Monday, President Moon said the country can advance into a better future when the achievements of the preceding administration continue to grow throughout the next administration, leading to a bigger leap forward. President Moon once again highlighted the need for unity in his last New Year's address in office, following his previous remarks, where he stressed 'national unity' while announcing a special pardon for former president Park Geun-hye. Some say President Moon indirectly voiced his regrets for causing disputes between political parties over major national tasks, including eradication of corruption, reform of agencies with powerful authority, and declaration of the end of the Korean War.
As for the real estate problem, which has been the thorniest issue throughout his presidency, President Moon vowed to make all efforts until the end to stabilize the housing market, stressing that the government will accelerate the supply of housing to meet actual demand while maintaining the current downward trend in housing prices. He added that he will do his best so that the difficulties in the housing market will not carry over to the next administration.
President Moon did not directly mention end-of-war declaration, which was the issue he has been stressing, as if he was mindful of the strained inter-Korean relations. However, he said the government will seek a path to normalization of inter-Korean ties and an irreversible peace until the end of the presidency.
President Moon said the remaining task is to further develop the achievements and make up for the shortcomings as much as possible in order to provide a solid foundation for the next administration. He added that in the remaining four months, the government will spare no efforts as a government that overcomes crises and pioneers the future of the country.
The main opposition People Power Party criticized the president's address, saying the president, who has consistently spilt sides, has no right to talk about an "election of unity."
tree624@donga.com