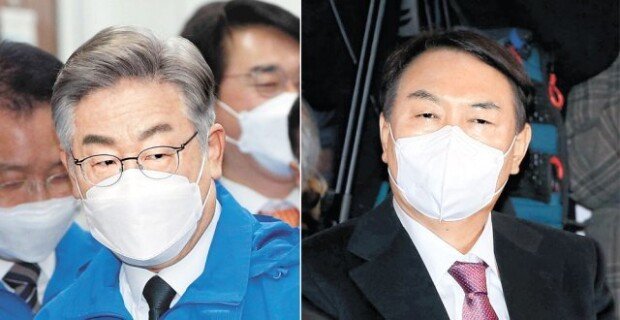 Presidential candidates Lee Jae-myung and Yoon Seok-youl proposed opposite solutions on sensitive issues, including property tax and fiscal policy response to the COVID-19 crisis. Competition between the two presidential candidates is in full swing to garner voters' support by suggesting different policy alternatives in fields directly related to people's lives.
Ruling party candidate Lee wrote on his Facebook account on Monday that it is like being fooled by the malicious media and corrupt political forces to oppose a national land holding tax for fear of losing money when he or she is not in the top 10 percent of land owners, adding 90 percent of the people receive more than they give. Lee has pledged to introduce a national land holding tax, which imposes a higher rate of tax on all landowners to collect unearned income from real estate deals. The idea is to introduce a new national land holding tax and use it as a source of basic income benefit rather than lowering the rate of comprehensive real estate tax. Lee argued that through the national land holding tax, 90 percent of households including those with one house can benefit from the basic income system.
On the other hand, Yoon from the main opposition People Power Party proposed to fully review the current comprehensive real estate tax as a counter to Lee's pledge. Yoon's idea is to lower the rate of comprehensive real estate tax, and in the mid to long term, either give tax exemption benefits to those with one house or integrate it in property tax. Seoul National University economics professor Kim So-young, who is in charge of the economics section at Yoon's camp, said the camp has a negative stance on introducing a national land holding tax.
The two candidates have different stance on fiscal policy response to the COVID-19 crisis. At a meeting of the ruling party's election preparation committee on Monday, Lee urged Yoon to have party-to-party discussions on supporting household income by providing discount coupons to the entire population now instead of delaying it until next year. Unlike Yoon, who plans to inject 50 trillion won to help small business owners if elected, Lee is arguing that 25 trillion won should be provided to the entire population early next year.
Hye-Ryung Choi herstory@donga.com · Sung-Yeol Yoo ryu@donga.com