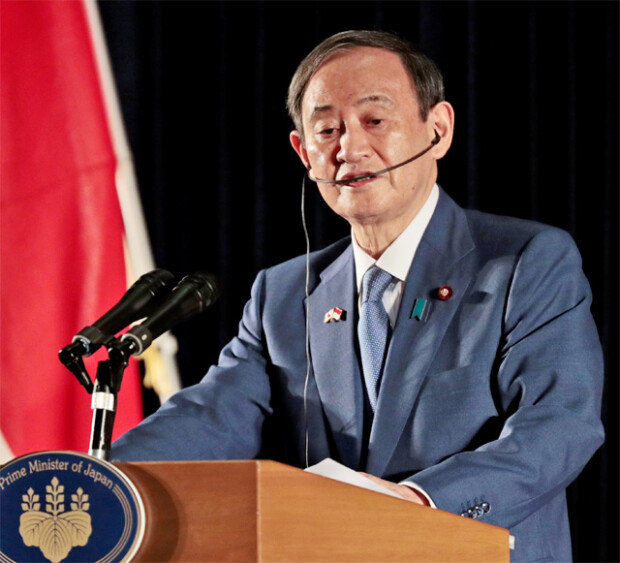 "Liquidation (forced to be sold off) of seized assets at Japanese companies will cause serious ramifications on Japanese-Korean relations," said Japanese Prime Minister Yoshihide Suga regarding the Korean Supreme Court's ruling on victims of forced labor during Japanese colonial rule. His comments contrast to the remarks of Korean Ambassador to Japan Nam Gwan-pyo, who said that the Japanese government is showing gradual process on this matter.
"It should be evaded at all costs since it would severely impact bilateral relations," said Suga in a press conference held at Jakarta, Indonesia during his state visit on Wednesday, referring to the liquidation of Japanese companies as a result of the lawsuit of damages regarding forced Korean labor during colonial rule, adding that the comments have been "repeated several times." When asked about whether he would attend the trilateral summit between Korea, China and Japan to be hosted in Korea at the end of the year, the Japanese prime minister said that he would refrain from making comments on every diplomatic matter between the two countries and added that the schedule has not been fixed yet.
It is the first time for the prime minister to comment on the matter since taking office. As Chief Cabinet Secretary under former Prime Minister Shinzo Abe, Suga had maintained a hardline position over forced liquidation of Japanese companies to provide compensation for wartime forced labor victims, making comments such as "Japan has no choice but to make retaliation actions" and "may incur significantly serious situation." His recent comments reflect his unchanged position over the matter as the new prime minister. Some experts have voiced concerns over deteriorating relations.
"It is worrisome that Korea may mistake Japan's position to take a softened approach regarding wartime conscription matters," a Japanese government official recently told the Dong-A Ilbo. "Korea may feel betrayed at Japan, whose position actually remains unchanged."
lovesong@donga.com