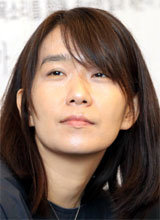 "If you call a moment when we should take a step toward light despite all the uncertainties a prayer, I sense that this project is something of a prayer that lasts as long as 100 years," famous Korean novelist Han Kang remarked Friday on the Norwegian public arts project Future Library.
Han was chosen as the fifth contributor to the project. The program aims to select a novel of a writer every year, which will be left unpublished and stored until all the novels in the collection are compiled to be published in 2114. Han Kang has become the first Asian writer in the project.
Visiting Oslo in Norway on May 25, Han will announce the title of her novel that is to be made public 100 years later and deliver the script to the project, which will be kept in the Oslo Library.
Seol Lee snow@donga.com