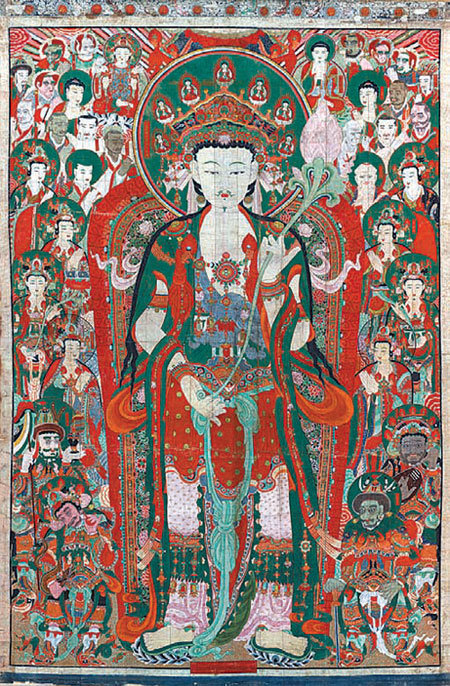 The Magok Temple located at the foot of Mt. Taehwa in South Chungcheong Province boasts the beautiful sound of the Magokcheon flowing and the scent of spring. Along with Gap Temple at Mt. Gyeryong, it is famous for its magnificent autumn leaves.
Maybe because of the beautiful scenery surrounding the temple, Magok Temple produced great monk artists. It is considered as one of the top three temples in Korea that produced the best religious pictures and Buddha statues along with Heungguk Temple in Namyangju and Yujeom Temple at Mt. Geumgang. Recognizing its unique history, the United Nations Educational, Scientific and Cultural Organization (UNESCO) added the temple to its World Heritage list along with six other ancient Korean mountain temples.
Celebrating the Buddha's birthday, which falls on May 12, the National Museum of Korea will exhibit the hanging painting at Magok Temple at its permanent exhibition hall from Wednesday. Visitors will be able to see all 35 figures in the painting that almost reaches to the ceiling, including the Buddha holding a lotus, the Bodhisattva, Vairocana Buddha, and the Four Devas, through their name tags.
"It is a rare opportunity to see the original painting in person as Magok Temple displays the painting to the public only once in several years to protect the painting," said Yoo Soo-ran, an arts and sciences researcher at the museum. The exhibition will be on view from Wednesday through October 20 and admission is free.
Won-Mo Yu onemore@donga.com