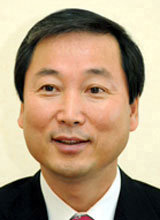 Widely known for their passion for education, the Jews started offering compulsory education in B.C., and established Jewish educational institutions called Yeshiva wherever they lived. Yeshiva is a Hebrew word meaning "sitting," and is derived from the Jews sitting down and study the Talmud. What's interesting about the institution is that you will face a person sitting next or on the opposite side, because Yeshiva is a place intended to have conversations rather than to read books. This shows that the Jews believe one can study by talking with other people.
This is why Yeshivas are usually full of noise, unlike South Korea's libraries dominated by deep silence. A traditional Jewish family also arranges their home furniture in a way that allows them to have a talk in a living room. In a stark contrast, in this country, we generally place a television at the front of a living room, a structure that makes it difficult even to look at the profile of family members.
In fact, conversation and debate are at the center of the Jews' life itself. They truly believe that talking is a gateway to breeding creative ideas. For the Jews, "brainstorming" is not something they do once in a while to gather ideas but what they habitually do on a daily basis. To be sure, the Jews would not have been born but have learned how they can naturally have conversations with others. A conversational method is the most effective when applied for young children who are acquiring a language, thus in a family. This is also why the Jews stress the importance of having conversations during meals.
The Jews, in reality, try to have at least one meal a day with their family and talk about various topics including their daily life, school life, religion, and career. Michael Sandel, Professor at Harvard University famous for his book "Justice: What's the Right Thing to Do?", had said in an interview with a local media outlet that his family has had conversations at a dinner table since his two sons were five to seven years old. Sandel said that a daily life was what was mainly talked about in the beginning, but as his children grew, they were able to develop their own views of the world through dialogue.
Some even argue that conversations at a dinner table are the secret of the Jews sweeping 20 to 30 percent of the Noble Prizes. David Gross, professor at the University of California, Santa Barbara, who was awarded the 2004 Nobel Prize in Physics, explained that the Jews excel in science not because of genetic reasons but because parents satisfy children's curiosity by having conversations during meals. Gross also said that he used to discuss a variety of topics with his father and three brothers while eating dinner.
South Koreans also consider it important to "educate" young children at dining tables, but it is usually focused on table manners, such as teaching children not to lift a spoon before adults first do. Being a Family Month which includes Children's Day, Parents' Day, and Coming of Age Day, May would be a great time to start conversations with the family. If it's hard to do so every day, once in a week would still work. This is especially helpful for children in making a career choice, who will be more confident and motivated when discussing career paths and supported by their parents. Techniques for having a good conversation is also an invaluable bonus children will earn.
Eun-Taek Lee nabi@donga.com