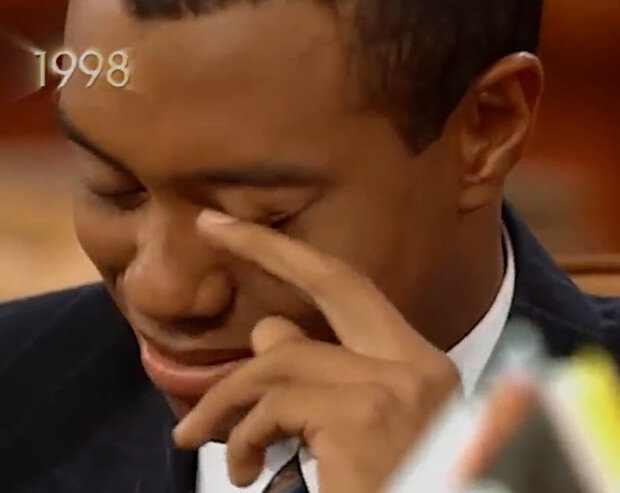 A son wiped away his tears while reading a letter from his father. The eyes of the father looking at his son also grew filled with tears soon. They were Tiger Woods and his father, Earl Woods, who appeared on U.S. TV talk show "The Oprah Winfrey Show" in 1998.
It was one day before Earl Woods' publication "Playing Through" was released. Oprah Winfrey recited a letter cited at the latter part of the book that was written by the father to his son. The letter, which was written after Tiger Woods won the Masters in 1997, resonated with the heart of the son deeply and impressively.
The father was quoted as saying in his letter, "You are my little man. You are my treasure. God gave you to me to nurture and to grow and to develop. I always have had your interests first and foremost in my life and it always will be. In fact, you mean more to me than life itself," expressing his affection toward Tiger. He added to write, "I can remember when I taught you that it was okay to cry and that men can cry. It was not a sign of weakness but a sign of strength…Sharing and caring for others is a way of life and it is not to be taken lightly…I pass on all of my abilities to share and to care to you. I realize that you have an infinite higher capacity and capability to perpetuate this philosophy in our days…I know you will give it your all and that you will be my little man forever." Such pieces of advice were full of the father's limitless trust in his son.
The letter that goes back more than 20 years has been brought into attention since Tiger Woods won the Masters on Monday despite many adversities. Standing back on his feet at the end of the tunnel, Woods hugged his little son tightly in joy and excitement. Tiger and his son recalled then 21-year-old Tiger Woods and his father hugging after the golf prodigy won the 1997 Masters, earning worldwide attention.
BBC also introduced the letter of Earl Woods on its official website, while related videos were put back into the spotlight on Twitter and YouTube as well.
The title of the book, "Play Through," refers to the act of a faster group of golfers on a golf course being invited to or allowed to pass a slower group. It also means overcoming obstacles and move forward.
Earl Woods writes his personal stories of being raised by his elder sister as a 13-year-old boy, joining the Vietnam War and raising his son.
Jong-Seok Kim kjs0123@donga.com