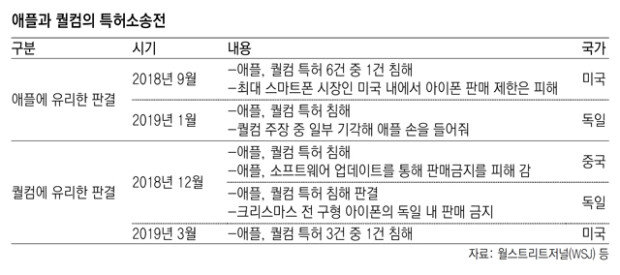 Apple, the largest smartphone maker in the U.S., and "patent giant" Qualcomm are poised to start a legal showdown over patents worth billions of dollars. Unless the two companies compromise in a dramatic move, one of the two will be dealt with a fatal blow in a do-or-die patent battle.
According to U.S. media outlets including the New York Times and the Wall Street Journal on Saturday, a patent lawsuit that Apple filed against Qualcomm will start at the San Diego federal court in California on Tuesday. The New York Times said if the trial kicks off, the CEOs of the two companies will likely take the witness stand.
Depending on the outcome of the legal dispute, both companies could suffer significant damage. Hence, watchers say that they could choose to compromise dramatically. Since the lawsuit was filed, Qualcomm has seen its market capitalization shrink more than 25 percent. The company narrowly managed to curb its rival Broadcom's hostile takeover bid due to the Trump administration's help last year. Since Apple could come to receive supply of Intel's chips whose wireless technology is inferior to Qualcomm's after the legal battle, Apple could end up lagging about one year behind in its competition in 5G mobile handsets with Samsung Electronics and other rivals.
The problem is the CEOs have failed to play any notable role to resolve the dispute instantly. Unfriendly relationship between Tim Cook and Steve Mollenkopf has further aggravated already intense dispute between the two companies, the Wall Street Journal said. While Mollenkopf believes like Nokia, Apple will seek negotiations to reconcile, there is no sign that Cook will back down, the daily said.
Yong Park parky@donga.com