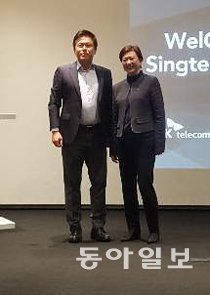 Planning to create a Korean version of Netflix by the first half of the year, SK Telecom CEO Park Jung-ho met top management of Singapore Telecommunications Limited (Singtel), the largest telecommunications carrier in Singapore and a content platform business in Southeast Asia, on Tuesday once again after they signed an MOU in February at MWC held in Barcelona, Spain, to ensure e-Sports business cooperation. As SK Telecom rose as the largest shareholder for a corporate that combines two platforms – "POOQ," the three major TV networks, and "Oksusu," SK Broadband, such recent moves seem to intend to lay the foundation for investment.
The SK Telecom CEO met Singtel leadership, including Singtel Group CEO Chua Sock Koong and Singtel International Group CEO Arthur Lang, at the headquarters of SK Telecom to discuss content business investment and the world's first 5G service, for which SK Telecom has prepared. Currently, SK Telecom is in preparation to turn into a content business in the era of 5G networks via an upcoming launch of an over-the-top (OTT) platform with 13 million subscribers.
The Korean-version Netflix can take off if an original content program makes a mega hit. It is expected that SK Telecom will beef up its efforts to cooperate closer with leading content businesses while leading investment from GIC in Singapore.
Singtel has cooperated with large-scale content businesses such as Sony Pictures and Warner Brothers Entertainment to establish an OTT service "HOOQ." It provides customized content to users in Singapore, Thailand and India. It is necessary for SK Telecom to cooperate with Singtel in order to make inroads into the Southeast Asian OTT content market. "We expect investment worth 200 billion won in a new OTT service this year," CEO Park said. "We are waiting for Singtel and HOOQ to join."
The executives from the two companies talked about telecommunications and media content business in Asian countries. Singtel CEO Chua Sock Koong said at the meeting that her company earns 75 percent of profits overseas, hoping to see what they can do in collaboration with partners such as SK Telecom. The visiting Singtel leadership also visited Samsung Electronics to take a look at the status of the launch of 5G smartphones.
Do-Young Kwak now@donga.com