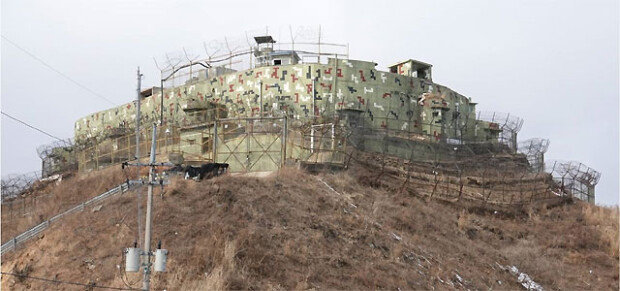 A guard post set up along the east coast that symbolizes the tragic division of the country will be registered as a cultural property.
The Cultural Heritage Administration said on Monday that it would designate a guard post (GP) in Goseong, Gangwon Province, which was the first GP built on the South Korean side after the 1953 Korean War Armistice Agreement.
The two Koreas had decided to remove the frontline GP according to the September 19 inter-Korean Comprehensive Military Agreement (CMA) but later agreed to keep the defunct facility, taking into account its historical value and practical usage. "It has historical significance in that it is located closest to a North Korean GP," said the state agency. "The building symbolizes both the division of the country in the cold war era and reconciliation between the two Koreas afterward."
Also named on the list are handwritings of 23 independence fighters celebrating their return to the country, old Dongrae station in Busan, and old Sanil filature factory in Sejong. Key figures of the Provincial Government of the Republic of Korea, including Kim Gu and Lee Si-young, wrote down their feelings and ambitions a day before going back to their country on November 4, 1945 in Chongquing, China.
The old Dongrae station, which was the first station built in Donghae Nambu Line, was constructed in 1934. There still exists a blueprint showing the station's transition process. The old Sanil filature factory in Sejong has a window up high in the northern part of the building so that the sun streams into all side of the building. The building is viewed as a valuable modern and contemporary architecture in Korea.
Won-Mo Yu onemore@donga.com