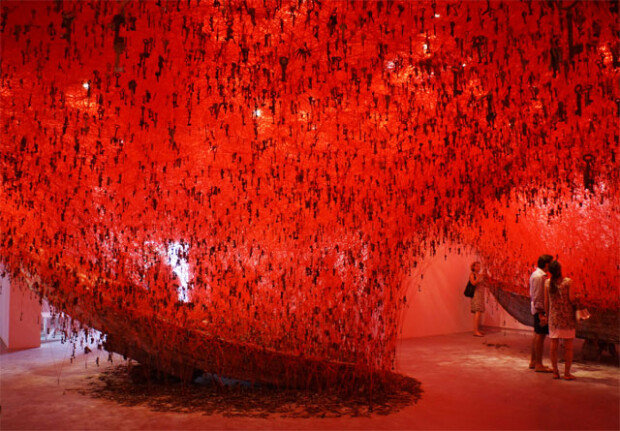 Humans are known to be creatures of oblivion but everyone has memories that they wish to treasure forever. Japanese installation artist Chiharu Shiota is capable of pulling out personal memories and weaving them into a complicated web. A bed, dress, shoes, bags and other everyday objects filled with memories are reborn as massive pieces of installation artwork.
The "Key in the Hand," which was unveiled at the Japanese pavilion of the 2015 Venice Biennale, was a signature piece that summed up Shiota's world of art. Pieces of string were tightly weaved together across the ceiling, which connected two ragged boats placed on the floor. More than 50,000 keys were hung between the space. Keys are everyday objects to protect our precious belongings and can be entrusted to our most trusted ones. The artist says that the keys, tied with red strings which stand for blood, are "media that convey our true emotions and interwind just like people." String, which can be knotted, twisted, tied, loosened and severed, is just like the descriptions of human relations.
The artist started this work to remember and cherish after experiencing a family death. He collected keys, which are touched by humans every day and accumulate memories, and linked in to his artwork. When he put up an online ad about his artwork, many people around the world sent him keys as well as letters describing their memories. The keys that he collected were not retired everyday items but objects that contained memories and stories of loved ones.
The two boats placed on the floor stand for two hands praying for rain of remembrance. Chiharu Shiota says that she wished to go beyond the sadness of loss and express memory, opportunity and hope. She wished that the boats would collect individual memories and move forward towards a huge ocean. After all, keys are tools to open doors to a new world.