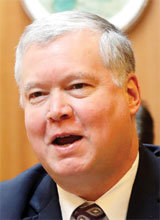 U.S. Special Representative for North Korea Stephen Biegun is currently visiting Beijing to discuss North Korea's nuclear issue, according to Japan's Kyodo news agency Monday.
The news agency cited a diplomatic source who said that Biegun arrived in the Chinese capital on Sunday and will meet with Chinese Vice Foreign Minister Kong Xuanyou to discuss North Korea's denuclearization following the breakdown of the Hanoi summit. Biegun is reportedly expected to stress the Donald Trump administration's intention to continue nuclear talks with North Korea and urge China to maintain sanctions on North Korea for the resumption of negotiations.
Biegun shared the outcome of the second U.S.-North Korea summit with representatives of 17 countries including South Korea and Japan during a UN Security Council meeting held in New York on March 14. He then visited London to discuss the North's nuclear issue with officials of the United Kingdom, France and Germany.
In January, Biegun met with the Chinese vice foreign minister after holding working-level talks with North Korea in Sweden. Biegun's constant meetings with his Chinese counterpart seems to be intended to share opinions with China as Beijing plays an important role in negotiations with Pyongyang.
lovesong@donga.com