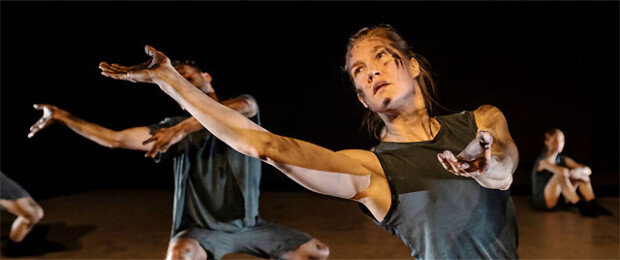 The Korea National Contemporary Dance Company and Sweden's largest independant dance company Skånes Dansteater will perform in a dance exchange project "Sweden Connection Ⅱ" at the opera theater of Seoul Arts Center from March 29 to 31. In the project, two choreographers of choice respectively create a performance with each team, following their previous project "Korea Connection" from March 2 to 12.
"The Swedish dancers' curiosity on movements based on Korean traditional dance was remarkable," said Korean choreographer Jang Hye-rim. "I believe their passion and energy will shine in the performance."
Brazilian choreographer Fernando Melo of Skånes Dansteater showcases "the longest distance between two dots" with the Korea National Contemporary Dance Company. The performance expresses the necessity to bring down physical and mental barriers and connect the humanity in an abstract form.
"I was amazed by the excellent techniques of Korean dancers. The audience will realize the true meaning of movements and discover non-verbal imagination," the Brazilian choreographer said. "Korean dancers have amazing techniques and abilities to express themselves. The audience will be a part of unique international exchanges of dancers."
A member of the Korea National Contemporary Dance Company, Jang will perform a ritual on the stage, adopting arm movements from traditional Buddhist dance. Safety helmets, headlamps and charcoal will be used as symbolic props.
"It was not easy to make dancers from various cultures understand movements of Korean traditional dance and concepts such as internal breathing and circulation," said Jang. "I tried to bring out movements that would resonate with anyone through discussions. It was interesting to see traditional beats such as Jajinmori, Hwimori and Taryeong as well as Korean traditional dance through the eyes of foreigners."
International exchanges among dancers are becoming more active these days. The Korea National Contemporary Dance Company will showcase project Step Up with a European contemporary dance platform in June, and a performance with dance companies in Brazil, Columbia and Spain by next year. The National Dance Company of Korea also created a performance "The Age of Time" with the Théâtre National de Chaillot of France.
"There is no answer in dancing, which is why the dance interpreted and expressed by dancers from various countries will be more diverse and unconventional," said Jang.
pep@donga.com