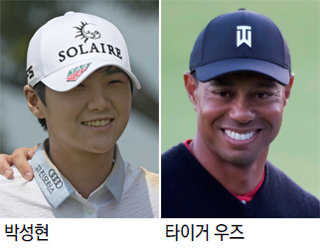 Tiger Woods has congratulated South Korean professional golfer Park Sung-hyun for her return to the world's top ranking.
"It was a pleasure to surprise you and watch you get back to No. 1. Congrats!" Woods wrote on Twitter on Wednesday. He also attached a video of him and Park meeting last month for the filming of a TaylorMade commercial.
Park, an avid fan of Woods, met the golf legend at a filming session for the commercial at Medalist Golf Club in Florida on February 7. When Park arrived at the site, she had no idea that she would be joined by Woods.
Park won her first victory of the season by winning the HSBC Women's World Championship that ended last Sunday. "If Tiger is watching this interview," said Park in an interview after the victory, "then I would want to say that because we met, you gave me such a good energy, that made me win this tournament." Learning that Park had returned to the No. 1 ranking with the championship, Woods tweeted a congratulatory message to her.
On Thursday, Park uploaded Woods' message on her social media account, saying, "Incredible."
Competing in the Country Club Ladies Invitational in Laguna near Manilla, the Philippines, she shot six under par in the second round, leading the championship with a nine-under-par 135.
Yun-Cheol Jeong trigger@donga.com