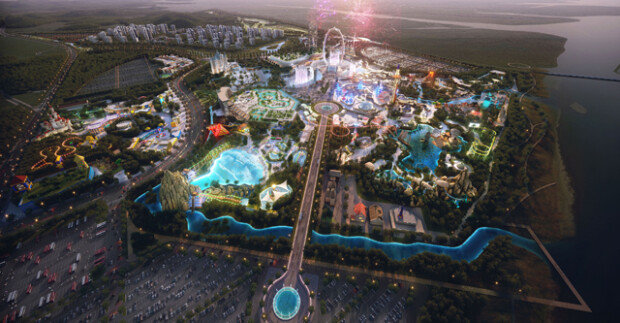 The "Hwaseong International Theme Park," which has stalled for more than a decade, will be resumed as the Shinsegae Property Consortium has been selected as a preferred bidder to run the complex development business at Songsan Green City (blueprint) of Gyeonggi Province.
Consisting of Shinsegae Property, known for building Starfield, and Shinsegae Construction, the consortium will invest 4.57 trillion won to build a tourist complex equipped with theme park facilities, leisure and commercial facilities. It is scheduled to break ground in 2021, open the theme park in 2026 and complete the rest by 2031.
Shinsegae Group is planning to build a completely new type of theme park by applying various and unique concepts. It will feature contents on K-pop, regional tourist resources such as the Shihwa Lake and dinosaur fossil site.
The company will also make investments to build a smart transportation system to promote the city as a "Smart-Green Tourist City" and build an environmentally friendly area to restore the tidal channels of the Shihwa Lake.
"We will build a top-class global tourist destination in Northeast Asia that will contribute to the growth of Korea and the region," said Shinsegae Property CEO Lim Yeong-rok.
salthj@donga.com