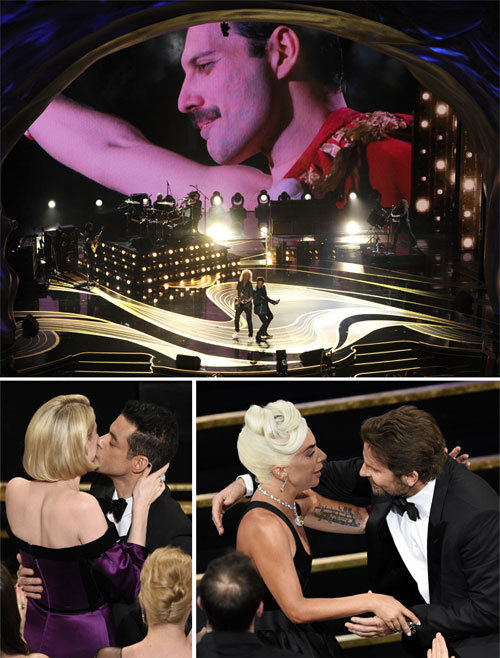 Biographical musical film "Bohemian Rhapsody" swept four out of five awards on Saturday (local time) at the 91st Academy Awards in Dolby Theater. With Rami Malek's award as Best Actor, the film earned the awards for Best Sound Mixing, Best Film Editing, and Best Sound Editing. Malek said in his acceptance speech that the fact that the story of a man staying positive as a homosexual and a refugee was awarded proves that many people relate to his life and want such a thing.
Concerned about the ever-dropping view ratings, the Oscars chose a safe path without any innovation. In 30 years since 1989, it was held without a host on stage for the first time. It handed out awards to various films. It calmed down compared to the pouring endorsement speeches on the #MeToo movement last year.
Attention-capturing Netflix-produced "Roma" earn the awards for Best Foreign Language Film, Best Director, and Best Cinematography. The award for Best Picture was awarded to "Green Book," which put the brakes on Netflix. The film describes friendship between Italy-born immigrant named Tony Vallelonga (Viggo Mortensen) and black genius pianist Don Shirley (Mahershala Ali) in the 1960s. It also gained the awards for Writing Original Screenplay and Best Supporting Actor given to Mahershala Ali.
Olivia Colman of "The Favourite" won the award for Best Actress. Colman was acclaimed for her role as Queen Anne blinded by desire who acts as a child as well as a tyranny. As a seven-time Oscar nominee, Glenn Close of "The Wife" missed another chance to be awarded an Oscar this year. As Colman said with a smile on her face in her speech, "This is not how I wanted to it to be," the camera turned to Close shrugging her shoulders and smiling in the seat.
Various famous figures replaced Kevin Hart, the previous host who was dropped out from the Oscars due to his controversial comments regarding homosexuals. Famous tennis athlete Serena Williams introduced the film "A Star is Born." U.S. Congressman John Lewis said that black people were then regarded as second-class citizens and experienced threats to their livelihoods, in his introductory remark on "Green Book." Korean-American actress Awkwafina came to the Oscars to present the award for Best Animated Short Film.
Critical voices over U.S. President Donald Trump were without exception heard at the ceremony. Spike Lee, the winner of the award for Writing Adapted Screenplay, emphasized that the 2020 presidential election would lead people to combine forces to stand on the right side of history.
Min Kim kimmin@donga.com