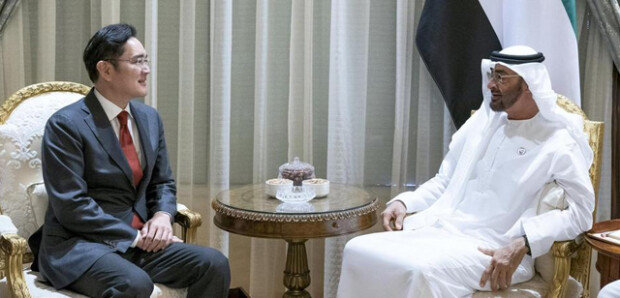 Samsung Electronics Vice Chairman Lee Jae-yong has met with Abu Dhabi Crown Prince Sheikh Mohammed bin Zayed in the capital of the United Arab Emirates to discuss areas of cooperation in IT and 5G technologies.
The crown prince of Abu Dhabi posted a photo of his meeting with the de facto leader of South Korea's top conglomerate on his Twitter account Monday (local time). According to industry sources and local media reports, the two discussed ways to expand cooperation between Samsung and UAE companies in 5G technology. Lee and the crown prince reportedly agreed on enhancing cooperation particularly in 5G network and future technologies in the IT sector.
There were some local media reports that Lee visited the UAE to attend the World Government Summit 2019 in Dubai, but Samsung has confirmed that Lee had a meeting with the UAE crown Prince, but did not participate in the summit.
Before heading to the UAE, Lee left Seoul last Monday during the country's Lunar New Year holidays to check a Samsung semiconductor plant in Xian, central China.
"Vice Chairman Lee seems to be starting the new year by checking the company's key businesses and exploring new business opportunities overseas in the areas of artificial intelligence (AI) and 5G," an industry watcher said.
Ji-Hyun Kim jhk85@donga.com