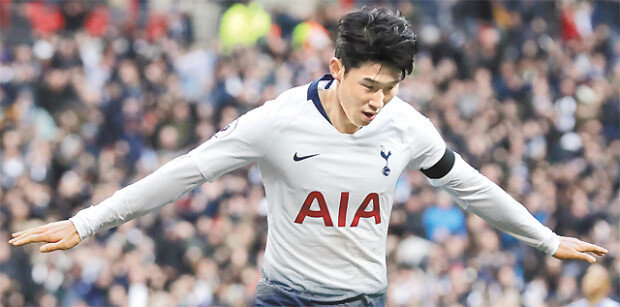 Son Heung-min, a South Korean striker playing for Tottenham Hotspur, has received his second yellow card in the Premier League this season. In the 15th minute of Monday's match with Leicester City, Son was brought down by central defender Harry Maguire when Maguire tried to take the ball away from Son inside Leicester's penalty box. The 26-year-old South Korean stumbled upon Maguire's leg, but was booked for diving by the referee.
The broadcast footage clearly showed Maguire's right leg making contact with that of Son, but as the Video Assistant Referee (VAR) system is not yet used in the EPL, the decision was not reversed. BBC commentaries pointed out that there was contact between Maguire and Son, and in such circumstances, a penalty kick should be given because a striker needs to be protected first.
After being yellow carded, Son seemed more determined than ever before to bag a goal against Leicester, and succeeded in the second-half extra time. With Tottenham leading 2-1 in the second half, Leicester pushed forward to get an equalizer, but Son quashed the opponents' rally with his left-foot shooting and sealed Tottenham's 3-1 win. It was his 15th goal this season. Son's latest goal was similar to the one he scored by racing unopposed towards the goalpost with a ball passed by Ju Se-jong in a match against Germany during last year's World Cup (which gave South Korea 2-0 win).
"My feeling, it was a penalty. I was very, very disappointed, and I was surprised," Son said after the game. "But a referee decision is part of football. We have to accept it."
Extending his scoring streak to three matches, Son was ranked 8th with 11 goals in the league's top scorers ranking (as of Monday). England's media have particularly paid attention to Son's scoring ability, which seems to be continuously enhanced since last year. Sky Sports analyzed that prior to the match against Chelsea on Nov. 24, last year, Son only had a single shot on target and hadn't scored a goal in seven games, but starting from the game with Chelsea, he had 21 shots on target and 11 goals in 13 games. Liverpool's Mohamed Salah (who currently tops the list of best scorers with 17 goals) is the only player who recorded the same score as Son during the same period.
Yun-Cheol Jeong trigger@donga.com