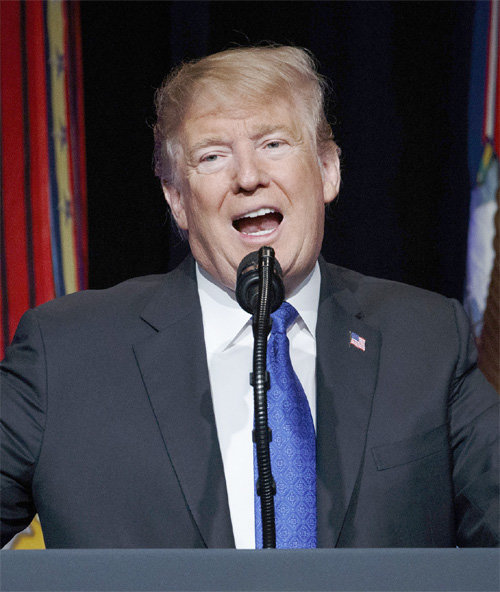 U.S. President Donald Trump said Thursday (local time) that in a time of rapidly evolving threats outside adversaries, competitors and rogue states are constantly advancing their deadly missile systems. He made the remark while unveiling the Missile Defense Review (MDR), which calls for an overhaul of U.S. missile defense policy, at the Pentagon.
The announcement event attracted attention because it took place just nine hours before North Korea's spy chief Kim Yong Chol arrived in Washington D.C. to discuss a second U.S.-North Korea summit. Some analysts say that Trump's "rogue state" remark was in connection with the expected summit, speculating that he renewed his emphasis of North Korean threats with a view to having the North's scrapping of some of its missiles into a summit joint declaration that would follow the summit.
At a time when defending the U.S. from foreign missile threats, just as Trump mentioned, a Washington-Pyongyang agreement on the North's intercontinental ballistic missile (ICBM) scrapping could significantly elevate Trump's status, as it is directly connected with enhancing U.S. national security.
"I will accept nothing less for our nation than the most effective, cutting-edge missile defense systems," Trump said. "Our goal is simple: to ensure that we can detect and destroy any missile launched against the United States anywhere, anytime, anyplace," Trump said.
lightlee@donga.com · hjson@donga.com