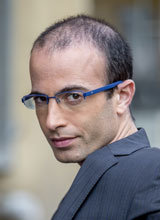 "The U.S-China race for AI development raises more concerns than that for trade does. The two powers believe that whichever leads AI technology rules the world."
"The 19th century where industrialized countries exploited those who lag behind can repeat itself in the 21st century with the emergence of AI technology," Yuval Noah Harari, lecturer at the Hebrew University of Jerusalem, said in his e-mail interview with the Dong-A Ilbo. The best-selling author of "Sapiens" and "Homo Deus" also expressed his concerns that the rise of nationalism can pose a threat to humanity.
"Nationalists mistakenly believe that they can lead an affluent life in a castle with a drawbridge raised to isolate themselves from a hell-like outside world," he said. "Such a misbelief is a mere fantasy in a situation where not any nation can protect its people without cooperation with other countries in the face of nuclear threats and climate change."
He advised that individuals should train themselves to revamp their lives in a world of rapid change.
Hyo-Lim Son aryssong@donga.com