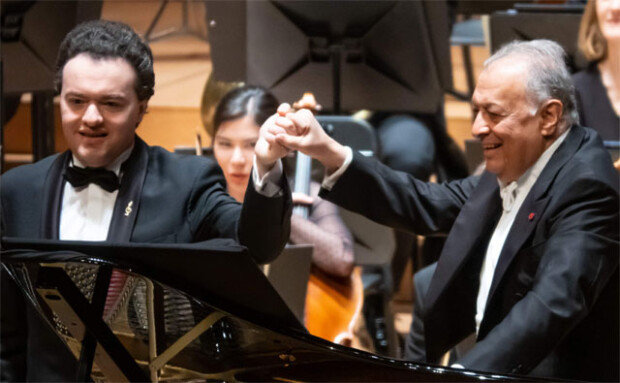 Seoul Arts Center saw the performance of the Bavarian Radio Symphony Orchestra (BRSO), the famed orchestras from Munich, Germany, on Friday. When the concert was about to near the end, a rain of gold began to fall from above with a popping sound, leaving the audience further gripped by the magic of the show. It was a surprise present from the BRSO. The audience and the orchestra all burst into laughter. The gold rain marked the climax of the festivity of the concert.
The Friday concert, which had been arranged to be conducted by the maestro Mariss Jansons and joined by the piano prodigy Evgeny Kissin, was certainly the most sought-after show of the year. A month before the schedule, however, Zubin Mehta, the world-renowned Indian conductor, took the baton from Jansons for reason of health. Over the past 60 years, Mehta has conducted a constellation of orchestras including the Berlin Philharmonic, Vienna Symphony, and the Israel Philharmonic Orchestra.
Mehta's conducting for Liszt's Piano Concerto 1 was strong and fierce, and the orchestra presented an almost uncanny performance both individually and collectively. Kissin's piano was undoubtedly singular like a swordsman fighting a legion of orchestra singlehandedly.
The second part of the performance moved more hearts with Ein Heldenleben (A Hero's Life) Op. 40, the tone poem by Richard Strauss. Known as the German composer's musical autobiography, it seemed as if Hero's Life told the story of Mehta's life. The melodies burned with heroic flares, travelled through the vicissitudes of hardship, struggle, and love before the soothing tone near the end enveloped the stage with a warm embrace.
Seol Lee snow@donga.com