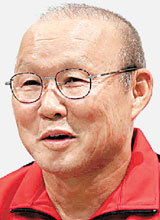 The Vietnamese national team, led by coach Park Hang-seo, has advanced to the quarterfinals as it is ranking No. 1 in its group in the ASEAN Football Federation (AFF) Suzuki Cub, the biggest soccer competition in Southeast Asia.
Vietnam won 3-0 the final match of the Group A qualifying league against Cambodia, which took place at Hang Day Stadium in Hanoi, Vietnam on Saturday, to rank No. 1 in the group and advance to the semifinals. Myanmar, which is led by coach Antoine Hey who had a "verbal fight" with coach Park, was defeated by Malaysia 0-3 to slide in ranks from No. 1 to No. 3 in Group A.
In the semifinals of the championship, the No. 1 team (Vietnam) in Group A will face off No. 2 team in Group B, while the No. 2 team in Group A will have a showdown with No. 1 in Group B. Vietnam aims to win the title for the first time in 10 years since 2008 and for the second time ever in the title's history. As the team has advanced to the semifinals tournament by ranking No. 1 in the group, it has elevated its chance to advance to the final.
Vietnam has continued winning streak in the competition by banking on its robust defense. The team beat Laos (3-0), Malaysia (2-0), and Myanmar (0-0), before crushing Cambodia, to play the four games (three wins and one draw) in the qualifying round without giving any score. Vietnam is the only team that has given no score among the 10 teams in the race. Attention is focusing on whether coach Park will achieve his third milestone after winning the runner-up in the Asian Football Confederation (AFC) U-23 championship, and joining the top four in the Jakarta-Palembang Asian Games.
Jae-Hyeng Kim monami@donga.com