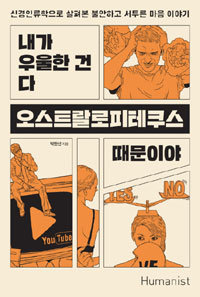 Primitive human society distributed resources, mostly food, quite evenly to its members in tribes compared to a more hierarchal group of gorillas or chimpanzees. Likewise, sexual appeals, related directly to having offspring, have developed to focus more on how much attention you can earn, rather than on how much you possess. Author Park Han-seon said that the desire to get attention is no different than appetite, adding that it must have been hard to produce offspring if you did not feel hungry without taking in any food.
This books tells us that obsession over symmetry and cleaning freakiness are attributed to the genes that our ancestors have passed down to us. The author cited a symmetrically perfect water drop-shaped hand axe. Even from a perspective of modern aesthetics, the tool is rendered beautiful. However, it must have been inconvenient to hold and use it. There is general consensus among scholars that the axe was devised as a tool to attract the other sex by showing off artistic talents.
Park explains that those with OCD may have failed to be grown out of the habit of cutting out axes symmetrically. It is dubious whether a well-organized set of books by alphabetical order will make you look attractive in any way, though.
The book shares analysis of the 32 behavioral and psychological qualities of human beings from a viewpoint of neuro-anthropology. It is an easy-to-read book in that you can come across familiar words such as "8th grade syndrome," a period when adolescents bluff to look cool and engage in immature behavior, "teotse," the tendency to be territorial, "bad bosses." Reading this book is a recommended joy you can explore on the subway. It is small enough to carry with but the font is large enough to read with ease.
easy@donga.com