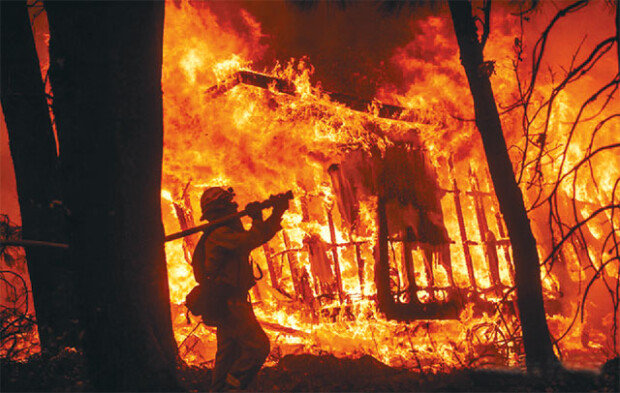 Twin wildfires that broke out in Mendocino, California in August were the largest wildfires in California history. Two months later, however, three wildfires that erupted simultaneously in California are causing the worst death toll in state's history.
According to news media, the so-called "Triple Wildfires" in Butte County, Malibu and Ventura have burnt over 880km² of forest and houses. It is almost 1.5 times the size of Seoul. The wildfires have already claimed over 60 lives, with another 600 still missing. The death toll is likely to rise as the list of missing includes many in their 80s. The 1933 Griffith Park fire in Los Angeles that killed 29 people was the wildfire with the highest death toll in the history of California.
Santa Barbara and Ventura in Southern California had wildfires in December last year that burnt through an area almost the size of Los Angeles like the Mendocino Complex Fire did. The California State has about 2,500 wildfires every year. Why do large-scale fires occur in the state of California?
Dry weather continues in the state of California except for fall and winter, when the rainy season sets in. The possibility of a wildfire increases fueled by trees dried in the hot weather. According to some analyses, an increase of wooden houses, which are vulnerable to fires, has expanded the fire.
Another factor playing a huge role is the Santa Ana winds. The seasonal Santa Ana winds develop when a large ridge of high pressure develops over the Mojave Desert and the Great Basin and turns into a dry and powerful gust of wind. The Santa Ana winds can turn embers into a large fire. Winds that blow at 50-70km/h quickly spread fires, making it hard for firefighters to contain them.
Others say that global warming is another culprit behind the recent series of large-scale fires. "There is an inseparable relation between destructive fires and global warming," said Hwang Young-ha, a researcher at the Climate Change Center. According to him, the global warming has caused the average temperature to rise by 1.1-1.6 degrees Celsius, reducing precipitation and causing frequent wildfires. Experts say wildfires in Canada and Europe are also related to climate change. There were seven wildfires in August alone in British Columbia, Canada.
A study by Oxford University found that climate change has increased the risk of a heat wave in Europe by two times. Heat waves make leaves dry, raising the risk of a wildfire. "If we fail to slow down global warming, there will be more natural disasters than this year," Hwang said.
California's dry weather coupled with the expansion of residential areas can easily trigger a wildfire. This is why the twin fires broke out in August, which is not a dry season. The scale of damage caused by wildfires is increasing as well.
State authorities say 90 percent of the wildfires the state has experienced since 1932 occurred after 2000 and 50 percent of them broke out after 2010. According to the U.S. National Weather Service, out of 10 worst wildfires in U.S. history, four occurred in the last five years.
Tae-Hun Hwang beetlez@donga.com