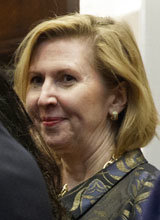 The Washington Post and NBC reported on Tuesday (local time) that as President Donald Trump is said to be carrying out large scale cabinet reshuffle after the U.S. mid-elections, White House personnel who were not in good terms with the first lady is likely to be dismissed soon.
Stephanie Grisham, press secretary for First Lady Melania Trump, said in a statement on Deputy National Security Adviser Mira Ricardel, "It is the position of the Office of the First Lady that [Ricardel] no longer deserves the honor of serving in this White House." It is extremely rare for the Office of the First Lady to request a change in personnel of security sector publicly.
U.S. media said that the deputy national security adviser became involved in a fight with an employee of the Office of the First Lady during Melania's visit to Africa last month and is also being accused of spreading negative rumors about the first lady. Mira Ricardel was appointed in April by White House national security adviser John Bolton.
wizi@donga.com