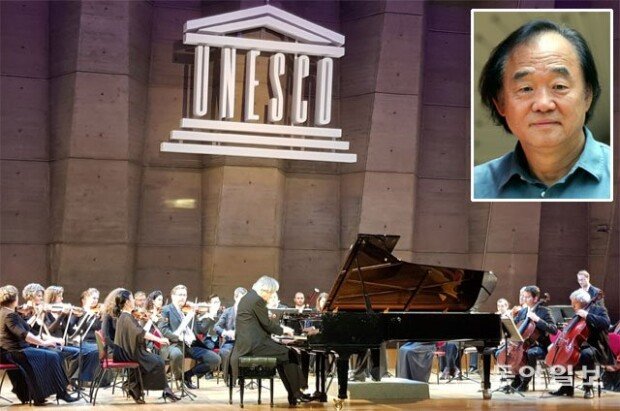 "I think world peace and inter-Korean peace can be achieved if we hold 'sincere dialogue," pianist Paik Kun-woo told reporters at the UNESCO headquarters in Paris ahead of "Peace Concert" on Thursday. "Music has the power to make people more innocent and better," he said, expressing his wish for peace on the world and on the Korean Peninsula.
The peace concert took place at the auditorium in the afternoon, with more than 1,200 people in attendance including heads of some 40 countries' missions to UNESCO, Korean War veterans from France and artists of peace picked by UNESCO. The concert was hosted by the Korean mission to UNESCO and organized by "Korean Meari" (echo), a Korea-France culture exchange organization, to commemorate the 100th anniversary of the end of the First World War (November 11), and to envision peace on the Korean Peninsula. The event was also aimed at remembering the significance of UNESCO, which was established with the view to achieving world peace after the Second World War.
After the opening of Part 1, Korea's national symbol "Arirang" was performed as the first song by the Beethoven Philharmonic of Vienna, which was conducted by Philippe Entremont, a famed composer and pianist. Arirang was registered as UNESCO's Intangible Cultural Heritage by South Korea in 2012 and by North Korea in 2014, and the song was specially arranged as orchestra music for the concert to convey the wish for peace on the Korean Peninsula.
The mood in the concert peaked when the Korean flagship musician and the Beethoven Philharmonic of Vienna jointly performed Beethoven's piano concerto No. 5 Emperor. "Beethoven was a person who embraced all different people," Paik said. After the performance ended, audience members gave a standing ovation, applauding and repeating curtain calls four times.
Jung-Min Dong ditto@donga.com