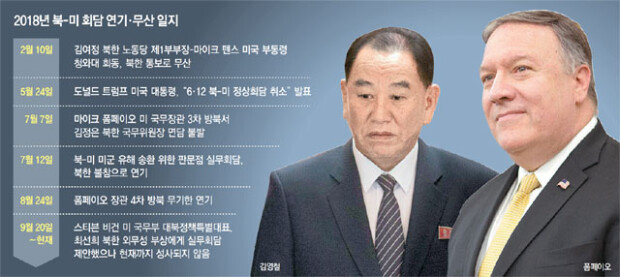 South Korea's presidential office Cheong Wa Dae was apparently disappointed Wednesday at the news of a sudden delay in the U.S.-North Korea high-level talks scheduled for Thursday, after publicly expressing its expectations over the negotiations. Cheong Wa Dae said it was informed in advance of the delay but remained silent about what caused the postponement.
According to multiple Cheong Wa Dae officials, the United State was informed about the delay through a diplomatic channel just hours before the U.S. Department of State officially announced the postponement Wednesday afternoon. Lee Do-hoon, Seoul's special representative for Korean Peninsula peace and security affairs, heard the news from his U.S. counterpart, Stephen Biegun. However, Seoul reportedly was not aware of the delay until Washington informed it.
Cheong Wa Dae remained optimistic until Tuesday, even though Kim Yong Chol, director of the United Front Department of the North's ruling Workers' Party, did not show up in China to fly to the United States. Cheong Wa Dae spokesman Kim Eui-kyeom said at a press briefing on Tuesday that the U.S.-North Korea high-level talks would probably deal with the issues of a new Washington-Pyongyang relationship and establishing permanent peace on the Korean Peninsula. National Security Office chief Chung Eui-yong also told the National Assembly on Tuesday that "significant progress" would be made at the high-level talks.
Still, Cheong Wa Dae expressed hope that the U.S.-North Korea talks was not cancelled but will be rescheduled. "I don't think the U.S.-North Korea talks have been cancelled or dialogue has lost steam even if (the New York meeting) was put off," the Cheong Wa Dae spokesman told a press briefing. Another Cheong Wa Dae official said that Washington and Pyongyang still seem to be wide apart over U.S. measures corresponding to the North's denuclearization steps. "As the North is aware that it cannot go against the denuclearization process, the two sides will sit together again."
Sang-Jun Han alwaysj@donga.com · Na-Ri Shin journari@donga.com