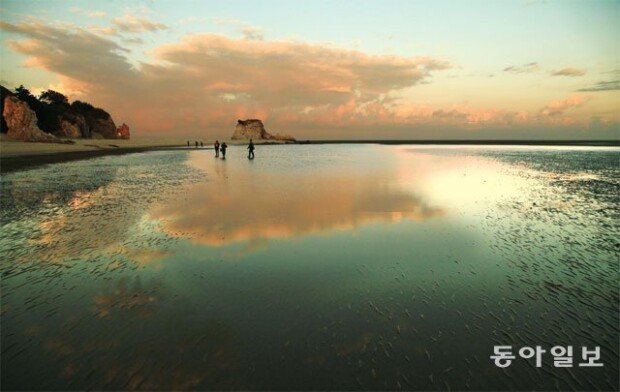 Mt. Samgak, 343 meters above the sea level, is the geographical core of Daecheong Island. The word "Samgak" was used exclusively to mountains located at the capital of an empire or a kingdom, according to scholars. The word was added to the name of the mountain due to the Crown Prince's palace of King Hyejong who was relegated from the Yuan Dynasty in the early 14th century.
The Samseo tracking path leads you to the peak of Mt. Samgak, heading west to reach the Seopungbaji coast. Walking the path allows you to enjoy the beautiful sceneries of mountains and seas. However, it was a tough journey to take the paths to the mountains and seas in one go because the road has ups and downs, and bumps with pebbles, thus causing fatigue. It is advised to begin walking from very early morning if the journey is expected to last all day long. Having a lunch box part-way is a good idea. Spending two days walking the paths is way better.
The Seopungbaji coast is the main part of the path. This geography is a coastal cliff that stands sharply vertically. It would have been part of the foot of a mountain, but become wind-borne, and weathered by the raging waves. Looking down from the top of the cliff provides a spine-chilling experience while the tracking path goes down along the edges of the side of the cliff. At the two extremities with a good view sight, observatories allow spectators to be fully fascinated by the perfect combination of mountains and seas. On your way to the Seopungbaji coast, you can come across "Gireumagari," a geography of triangle-shaped rocks with faults at 45 degrees exposed on surface and the surrounding coasts. The topography was named after a kind of plant that is squeezed to oil extracts that inhabits the place.
summer@donga.com