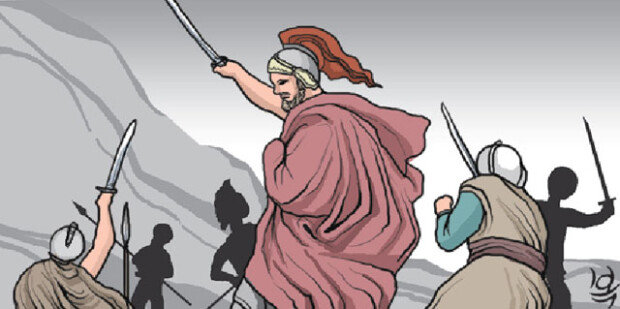 Suppose you've failed your strategic goals and got trounced in the last battle to lose the entire army. Hannibal Barca, the Carthaginian general, is still respected as one of the best commanders in his era despite such as a disgraceful battle history mentioned above. The Romans, who have suffered for 15 years from Hannibal, continued to fear and respect him even after his death. The reason behind their respect was the fact that the presence of Hannibal had awoken the Romans to their senses. It was thanks to the battles against the Carthaginian commander that Rome realized that the true strength of a military hinges not on the sheer number of men but the quality of training. Scipio Africanus, the Roman general, learned his lessons from Hannibal's war strategies and trained his troops with strong discipline. People complained the drills were too long and harsh, but Scipio stuck to his philosophy. And when the Roman commander destroyed Hannibal's soldiers and won the Battle of Zama, Rome celebrated the victory, with the slurry of grievances nowhere to be heard.
After the victory, Rome instituted a voluntary military system and improved their military equipment, opting for a strategy and a military formation that required rigorous exercises and trainings. This served as a stepping stone to the glory of Roman Empire. Without a good commander in place, it is impossible to form a strong military. The Romans learned the lesson from Gen. Hannibal that a great soldier is not born but made through self-development and disciplines. Commanders have to stand along with his men and learn tactics and leadership in the battlefield. Lineage is a factor, but what matters more is the environment. There is no such a thing as the perfect environment to foster a leader, however. A great leader knows how to utilize what is given to him and make an effort to attain what is not given.
After Hannibal and Scipio, Rome continued to witness the rise of great leaders such as Marius, Sulla, Caesar, and Pompeius. Fairly enough, half of them were from aristocratic families and the other half were commoners. In the cases of Sulla and Caesar, they had exchanges with plebeians after their families either collapsed or faced bankruptcy. After all, what mattered was the ability to understand both the noblemen and the commoners and unite them together. The Romans understood this and took it into action. The process of doing so was not far from smooth, however, which left their history tainted with blood and conspiracies. It appears that our society is embarking on a bumpy journey as well. I truly hope that a happy ending will be waiting for us.