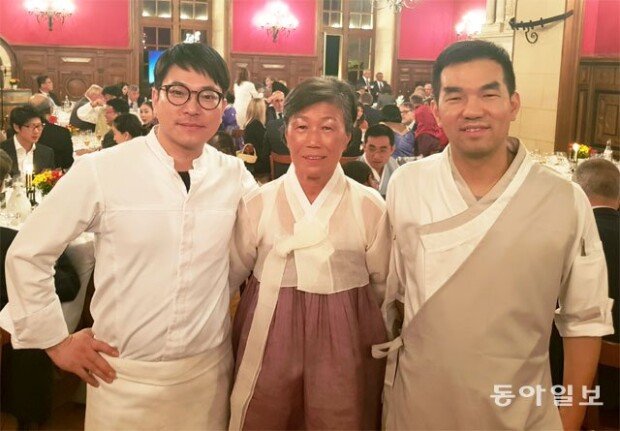 Two Korean chefs in their thirties showcased classic Korean cuisine at the Korean Culture Night on Friday (local time) in Claude Vougeot, the center of Bourgogne known for quality French wine.
The two chefs were Lee Young-hoon (34) who runs a restaurant in Lyon and received a Michelin star in France for the first time as a Korean chef and Kwon Wu-jung (38) who runs a restaurant in Seoul and received two stars. The event was hosted by G3C (headed by Han Sang-in), an NGO for cultural exchanges, and supported by the Permanent Delegation of the Republic of Korea to UNESCO, to which ambassadors and their spouses from 35 countries were invited to enjoy Korean cuisine.
Lee cooked traditional French food foie gras with anchovy broth and lobsters with Korean bean paste. Kwon showcased caviar with 30-year-old soy sauce, braised abalone and wagyu steak. UNESCO ambassadors enjoyed the menus and Bourgogne's wine at the event and gave a thumbs-up.
Lee studied hotel cooking at Korea Tourism College and graduated from Paul Bocuse in Lyon in 2009 before he opened his own restaurant Le Passe Temps (refection) in 2014. The journey was not always easy for him.
Lee went to banks to get a loan to open a restaurant, but was refused many times. But a miracle found him when he decided to go back to Korea with his wife because his visa was about to expire in a month. A bank contacted him and said, "We once supported a brilliant young man like you." He did all the construction and interior work and opened a restaurant with five million Korean won. "I used to cry every day while I was trying to open my restaurant," said Lee, reminiscing the hard days.
But things completely turned around when he received a Michelin star two years later. "I went to a bank to take out a loan for remodeling after receiving the star, and they lent me hundreds of millions of won without asking anything," he said. Renowned Michelin star chefs in France sent him letters of encouragement.
Kwon also worked as a dish washer who got paid 400,000 won a month 17 years ago. There were two three-Michelin-star restaurants in Korea, but they were both run by conglomerates. Two Michelin stars are as many stars as an owner chef can get. "My dream is to get three stars for the first time as an owner chef," he said. "I want to show people that they can achieve their dream and keep their pride by working hard in Korea."
"The only thing I can do for my country is to cook," Lee said. "I wanted to show the ambassadors that there is a Korean chef who can cook."
"Bibimbap and Kimchi are already well-known, which means they don't have to be at the center of Korean food anymore," Kwon said. "I want to spread Korean gourmet meals and level up Korean food hallyu."
Jung-Min Dong ditto@donga.com