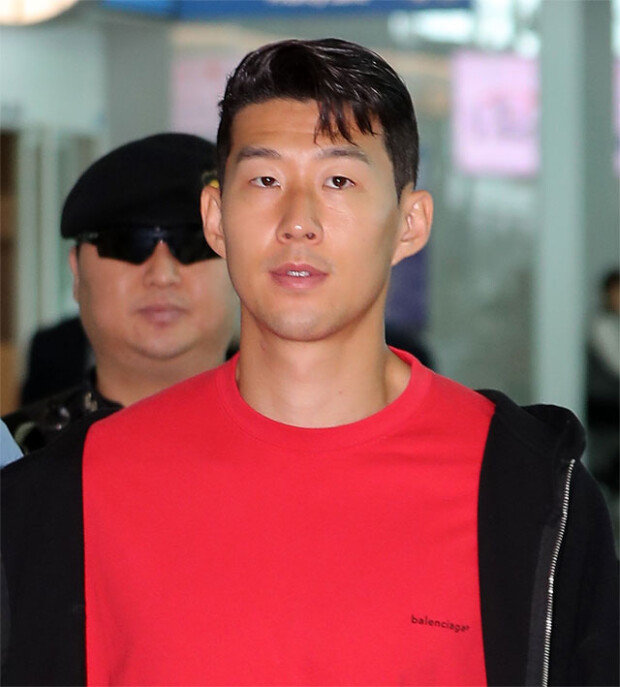 Son Heung-min (age 26), who pulled off a rigorous schedule like an "iron man" in Korea's National Soccer Team, is starting the competition for key player position at Tottenham in earnest. Some people worry that the young soccer player is being exploited. Yet, he has no choice but to enter into fierce competition without a break.
After finishing the warm-up match with Chile on Tuesday, Son Heung-min headed to London on Wednesday through Incheon International Airport. It appears that Son will embark on getting used to the time differences and recover his condition immediately after he arrives in England as his team Tottenham has a match with Liverpool on Saturday.
While Son was pulling off his schedule for the Asian Games and as a Korean national team member, Lucas Moura (age 26) showed vigorous activities in Tottenham, filling the vacancy of Son Heung-min. Moura was selected as the player of August by EPL and is on the rise. Recently, he scored two goals at the away game with Manchester United, recording three goals in four games. Erik Lamela (age 26) is also a rival for Son's position.
Son says he will overcome difficulties with positive mind. "I believe that my season starts right now," he said. "I am delighted to be able to play at EPL and Union of European Football Associations (UEFA) Champions League again."  
Starting from the final game for 2017-2018 season of England Premier League (EPL) on May 13 to the game with Chile, the Korean soccer player pulled off 21 games for 122 days. It is true that he exhausted his physical strength as he participated the Russia World Cup and the Jakarta-Palembang Asian Games during this period. "Exploitation is just an excuse. I am a professional player," he said. "I cannot even imagine myself not putting everything I have when I play the games in the soccer field filled with so many soccer fans."
Yun-Cheol Jeong trigger@donga.com