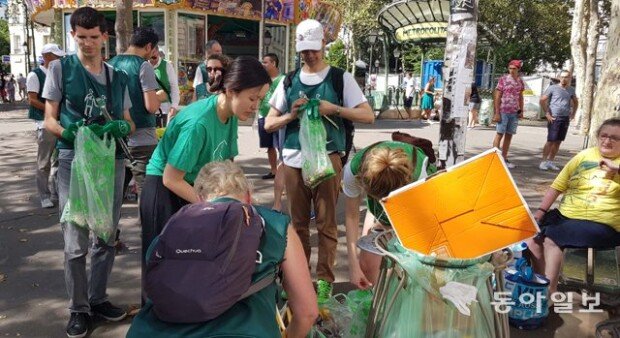 At 4 p.m. on Aug. 4, a group of some 40 Asians and Caucasians dressed in green tops gathered at Abbesses Station near Montmartre, Paris. Holding tongs and garbage bags, they soon dispersed around the area.
Cleaning the streets of Paris once a month, these are the members of civic group "Green Bird" led by Japanese Yoshiko Inai. "I can never forget the shock I felt when I first came to Paris in 2004 and saw people dumping trash everywhere on the streets," said Inai.
Some are French people who joined the organization's activities after seeing an online notice. The nonprofit group has collected trash on the streets of the City of Lights for 12 years since 2007. Japanese nationals who felt disappointed about litter on the streets started to take matters into their own hands, and with their cleaning activities known through media reports, more French people started to join.
In June, former French Minister of Culture Jack Lang addressed Paris Mayor Anne Hidalgo on Twitter, saying that "I came back from Tokyo. You should spend a few days there. The city is exemplary cleanliness." Hidalgo responded by saying "Various events are being held to make Paris cleaner and raise everyone's awareness of respect for public spaces."
Paris, which will host the 2024 Summer Olympics, is apparently putting in great efforts to make the city clean. Some 5,036 cleaners are picking up trash along the 2,900 kilometers of the city every day, and the city government set aside around 500 million euros (about 650 billion won) of this year's budget for cleaning up the streets.
A mobile application was developed through which citizens can report dirty public places and then cleaners are immediately dispatched. Paris has also appointed "cleaning ambassadors" for each neighborhood to lead citizens voluntarily clean the streets.
Jung-Min Dong ditto@donga.com